gardening events
National Pollinator Week
June 20-26, 2011 was National Pollinator Week, but you can start creating a pollinator-friendly garden now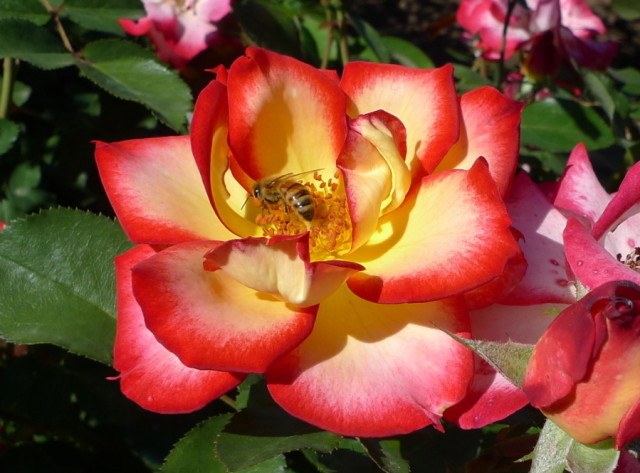 The week before last was National Pollinator Week and I totally missed the party. Geez, why didn't anyone tell me? But given that the point (of all the buzz, I nearly said) is to draw attention to the importance of pollinators to life on Earth, and the need for us to protect and preserve them, I am not letting that tiny fact stand in my way.
As the recent spate of films such as Queen of the Sun can attest, pollinators are crucial to flowering plant reproduction and the production of most fruits and vegetables. Pollinator health is also a good indicator of healthy local ecosystems and overall planetary health. Pollinators include bees, flies, butterflies, and birds, among other creatures. (Some less romantic pollinators include certain slugs, wasps and beetles, but they don't seem to garner the same attention as the prettier pollinators, do they?)
There's a lot to learn about attracting and supporting pollinators in your garden. Thankfully, there are some useful and readily-accessed resources now available for just this purpose.
About a year ago, a great new resource was developed which helps people find regionally-appropriate lists of pollinators and the plants that they feed upon, and provides guidance on creating a pollinator-friendly garden. You can enter your zip code and you'll be provided with detailed information – including plant lists – that is tailored to your region.
Another fantastic resource comes via the local Xerces Society for Invertebrate Conservation. From the home page, you can go to the pollinator resource conservation center, find information on the Xerces Society's new book, Attracting Native Pollinators, and read a nice summary of the problem and some solutions. I would also suggest poking around on the Xerces Society website, as there are myriad points of interest there.
If you'd like to make your garden generally more wildlife-friendly, read this information from the National Wildlife Federation. Or go totally local and read this information from the Backyard Habitat Certification program run through the Portland Audubon Society and Metro.