things to do
Oregon Lavender Festival 2011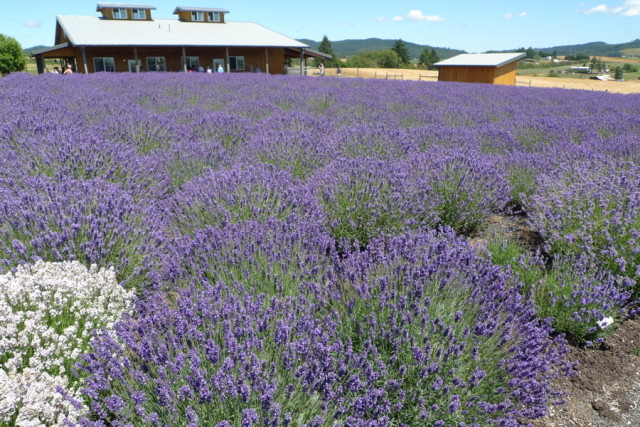 Every summer, Yamhill County turns into a giant aromatherapeutic party, with dozens of lavender nurseries, u-pick farms, and businesses opening their doors to the public to celebrate this most glorious of flowers.
There are all kinds of events, including a country fair-like party at Beulah Park in Yamhill, with food, vendors, music and demonstrations. And while Yamhill County is the epicenter of sorts, the "festival" is actually quite spread-out, with sites from Hood River to Grants Pass, and many points between.
What: Oregon Lavender Festival 2011
When: Sat July 9 and Sun July 10, 2011
Where: in various counties surrounding Portland and Salem, with a sweet little country fair-like party in downtown Yamhill – download map for details
If you're in the market for plants, you can find unusual white-, pink- or green-flowered lavender and – the holy grail of the lavender-lover – varieties with very dark, rich purple flowers. There are also types with a variety of scented foliage (just fondle them to find the one you like best – instant aromatherapy) and in sizes ranging from 8" tall to 4 feet. There are types with green, gray or silver foliage, and degrees of fineness or coarseness to the leaves, as well. Bloom times can also vary. All this to say, there's a lavender for everyone.
And on this theme, one of the best things about the festival for plant-seekers are the nurseries and u-pick farms, where you can see many hundreds of varieties all laid out before you and labeled, so that you can pick the ones you like best and write the names down (or buy them right there, if they have them available). I always like to go to the festival at Beulah Park and find Andy Van Hevelingen, lavender expert and author, who brings a raft of fascinating new lavenders he's collected around the world or bred at his own local farm.
But it isn't all about buying plants; you can cut your own bouquets of fresh lavender; buy lavender oils and toiletries; listen to growers speak about lavender; and watch oil being produced in a still.
Check out this list of vendors, nurseries and farms to help guide you on where to start.