edibles
Vegetables to Plant Now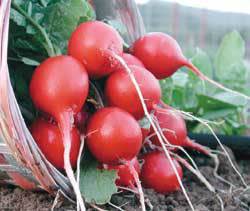 Early July is the perfect time to make your final sowing of quick-growing warm-weather veges and get a head start on the most slow-growing winter vegetable crops. And with a long holiday weekend ahead, and good weather predicted, the garden could turn out to be the most relaxing place to hang out over the holiday weekend.
Direct-sow in the garden:
- bush and pole beans (pick quickest-maturing varieties)
- sweet corn – pick quickest-maturing varieties
- beets (for fall harvest)
- carrots (for fall harvest)
- radishes (summer harvest, but keep sowing every 10 days to extend into fall)
- for winter, now's the time to sow slow-growing Brussels sprouts and cauliflower. Try them in flats in a lightly shaded spot, or under a shadecloth tent, if you have trouble keeping seedlings watered daily during hot weather. In mid-July, sow quicker growing broccoli, kale, cabbage, gai lan, bok choi, chard and winter-keeper root veges like beets, carrots, parsnips, etc. The quickest cold-tolerant greens, like arugula, spinach, lettuce, mustard, and baby bok choi can be sown at the end of July through about mid- to late August.
There are some fantastic Asian vegetables suitable for fall and winter harvest available through New Dimension Seed Company. I also like the wide range of local, organic, small-scale grower seeds available at Naomi's Organic Farm Supply. And of course, Territorial and other reputable companies' seed can be found at most local nurseries. By now, the fall and winter seed crops have arrived on the racks so the selection's at its peak.