Market Watch
Scape from Planet Garlic
There's more to garlic than just the bulb.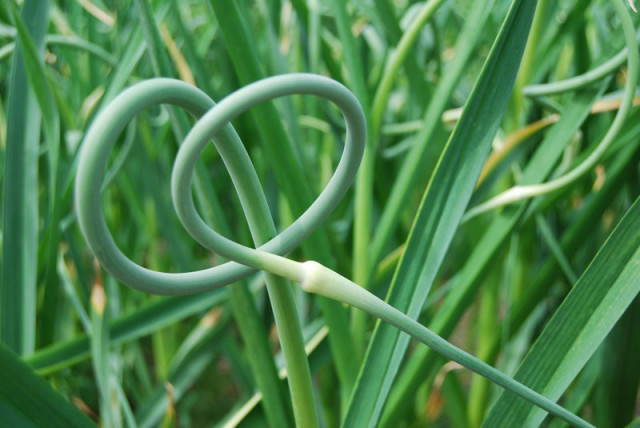 What are those long curly green rope things doing at the farmers' market? Or rather, what the heck are they? They're not ropes but scapes – and they seem to have more aliases than a secret agent. Scapes are a.k.a. green garlic, spears, stems, tops, and immature flower stalks. No matter the name, catch them young and they are delicious to eat.
Catching them young does takes timing, but they've been at the farmers' markets recently; they are an early summer harvest – and as you may have noticed, summer here in Portland has, ahem, barely started.
The scape is the round stem of the hardneck garlic that pops up above the bulb; if lopped off early – when they are a couple of feet tall, and curling into a graceful circle at the top – more energy is left to grow the bulb itself larger. So that's what farmers usually do. Chop the top and eat, let the bulb get big!
Garlic scapes are great raw, sliced or diced as you would scallions for a green salad or in tuna or chicken salad. They are also quite tasty when lightly sautéed as you would other green veggies, in olive oil, as a stir-fry or thrown into an omelette, over pasta, or mixed with rice. They're even good pickled.
Sautéing the scapes softens the garlic bite nicely, but the raw scapes also make a powerful pesto, with the scapes replacing the usual basil. Here are some links to a couple of pesto recipes to try (all freeze well, too):
• Garlic scape pesto with our favorite super-food, walnuts, instead of the typical (pricey) pine nuts, from Kim O'Donnel at the Washington Post.
• A using almonds instead of pine nuts, from cookbook writer Dorie Greenspan.