DIY
A Planter for Plant-killing People
Having a black thumb doesn't mean you can't also have a green indoor garden.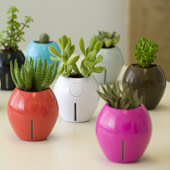 It's a dream: a growing, thriving houseplant that forgives your nearly complete neglect yet enriches your daily life with its lovely, lively beauty. What planet might that plant grow on? Well, earth, actually – if you use "Grobal Earth Mix" as soil and plant in a Grobal planter.
Some of us are lovers of plants, yet also (inadvertent, unintentional) killers of plants. For us, the Grobal has been invented. Karim Rashid, the ubiquitous designer of boppy, poppy products (from chairs to lamps to watches, with wastebaskets and water bottles in between) has given Grobal its simple egg-shaped profile and bold color choices.
Grobal is an outgrowth of Treg Bradley's American Agritech/Botanicare company, which specializes in hydro-gardening and organic plantcare products. The Grobal planters come in two sizes, 7" and about 4 ½", appropriate for medium to small houseplants and herbs. They are made of sleek plastic (it is a Karim Rashid design, after all) that looks clean and contemporary.
You can always convert an existing pot to a self-watering system (Gardener's Supply Company has some options), but the all-in-one kit from Grobal is awfully appealing. The kits ($24.95 and $14.95, depending on size) come with soil mix an nutrient packets included; you just add the plant and the water.
Common herbs like rosemary, sage and basil would work, as would most any typical houseplant from cacti to orchids. How much care they require would depend on the plant's water needs, of course; if you truly want to ignore the plant for a semester or more, you might want to invest in a plastic plant instead. But otherwise, Grobals give us black-thumbers a chance to green our space.