good ideas
Avoid the Coneflower Blues
handy tips from the King of the Coneflower
Coneflowers (Echinacea sp.) are hot. But dead plants are not.
Have you had the experience of planting one of these super-sexy new orange or yellow coneflowers in your garden, only to find they failed to return the following spring?
If you've had this problem, you're not alone. The exciting developments in color in coneflowers – once mostly seen in purple and white and now available in a range of hues of orange, red and yellow – came at a price… especially frustrating when one gallon plants cost upwards of $15.
So what gives? For insights, I went straight to the Pacific Northwest's own authority on the subject, Dan Heims. Dan is co-founder and plantsman extraordinaire at Terra Nova Nursery, a wholesale nursery and breeder that has been developing echinaceas, heucheras, tiarellas and other trendy plants. He gave me the backstory:
First gardeners were growing Echinacea purpurea and E. angustifolia, the two pretty purple or sometimes white species most commonly used in medicine. Breeders began to hybridize these handsome, old-fashioned flowers with species like E. paradoxa to introduce more exciting colors like yellow and even red into the flowers. Problem is, E. paradoxa isn't particularly vigorous in the garden. When this plant was hybridized with the sturdy pink species, more interesting colors emerged but the plants were less adaptable to winter wet or cold. Consumers started to complain about plants being weak or not surviving our wet winters. Now, breeders and hybridizing these beautiful but less vigorous coneflowers with E. tenneseensis, a vigorous species producing masses of flowers and basal shoots… as this breeding progresses, the new red and orange echinaceas are becoming stronger and more floriferous.
Meantime, here's how to succeed with the first generation of yellow and orange coneflowers:
Tip #1: give your coneflower good drainage. These plants don't thrive where water stands over the winter. Heavy, waterlogged soil is a far cry from the well-drained, sandy soil of the American Midwest prairie, from whence these plants hail. It's also important with potted plants: you can more easily overwinter a root-bound coneflower than a little plant swimming in a big pot of saturated potting soil.
Tip #2: remove all flowers and flower buds during the plants' first year in the garden – by the end of August at the latest. (Luckily, they're long-lasting in bouquets.) Just as we pick off blueberry flowers in their first year so they focus their energy on getting established instead of fruiting, we should remove the flowers of coneflowers during their first year. What you want by October is a plant that has at least a few strong basal crowns (little rosettes of leaves): this is your best guarantee that the coneflower will make it over the winter.
Finally, I asked Dan for his favorite new hybrids combining great color and garden toughness. He picked three new introductions that are beautifully colored but more garden tolerant:
Echinacea 'Firebird'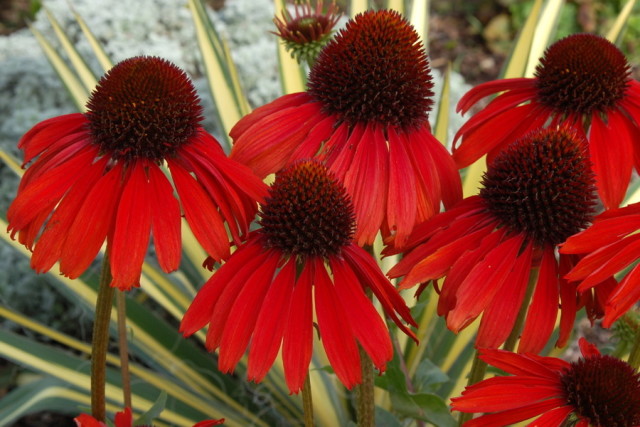 Echinacea 'Flamethrower'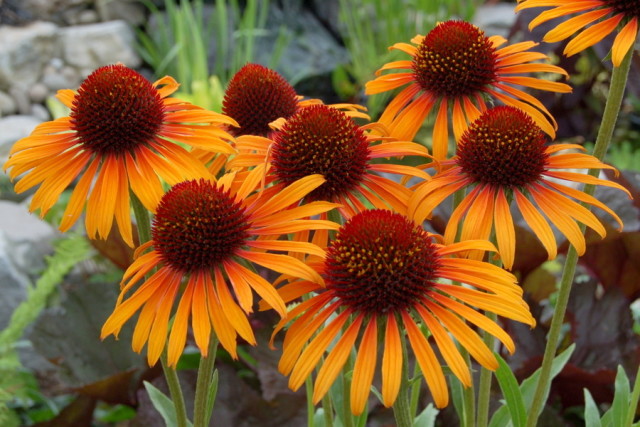 Echinacea The Secret Series – there are six plants in this group – check them out here
He added a coneflower that's been available for a few years: Echinacea 'Ruby Giant', a stalwart, vigorous hybrid with 5" diameter, fragrant flowers. It's a tough plant that's proven itself in recent years as garden-worthy, he says. Best of all, it not only provides pollen for bees and butterflies but also has fertile seed for the birds. (Most hybrids, including all doubles and most red and orange hybrids, lack seed so there's no seed for the birds to eat.)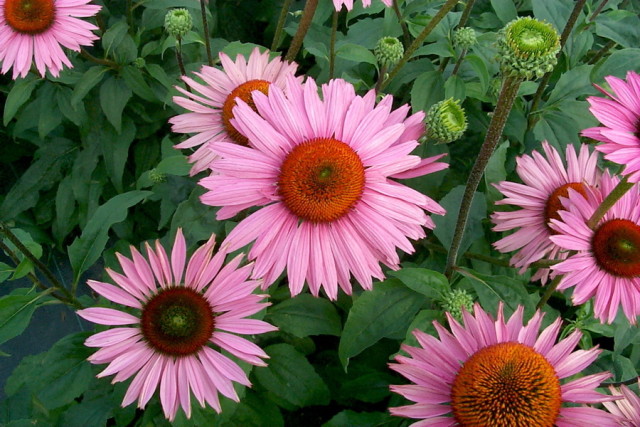 Echinaceas are in flower in the nurseries right now, and are looking fantastic. It's nice to see the flowers so you really know what you're getting when you buy them: just cut the flower stems off at the base by the end of the month! And look for plants with at least one strong basal rosette. The more the better. This is your guarantee that the plant has massed up enough basal growth to overwinter successfully. And of course, once the plants are established in the ground, you don't have to do anything special. They should increase like any other garden perennial.