Market Watch
Finally, Tomato Time is Here
The fruity red "vegetable" is plump, juicy and ready for summer slicing.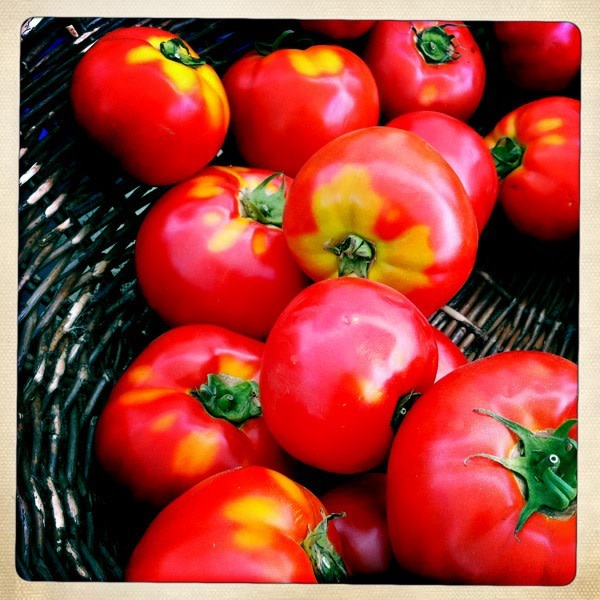 Another sign of summer slowly arriving in Portland: tomatoes, ripe, round and bountiful at the markets and in our gardens today. Even in the pots on my deck, we've got a record harvest of this fruit (commonly known as a vegetable, but that's another column), with three juicy red tomatoes. Last year's grand total, in three pots, was about one and a half tomatoes, so this is a minor miracle.
Like many Portlanders, however, I always supplement my tomato needs by stocking up at the farmers' markets. St. Johns Farmers' Market had the beauties shown in the photo here, as well as the inspiring recipe for Shopska Salad to use them in.
The recipe is for a chopped, chunky veggie salad – a staple of late summer meals in many cultures as gardens overflow with a random assortment of common veggies. This version is the Bulgarian twist: tomato, cucumber, onion, parsley and a white goat cheese called Sirene (means "cheese," in Bulgarian). Feta is suggested as a substitute since it's easier to find, though the authentic Bulgarian cheese is a bit softer and tends to be less salty than the typical feta. (Sirene cheese is traditionally preserved in salt but then washed and soaked in fresh water before using.)
Whichever hard white cheese you use, crumble it on top of the coarsely chopped veggies and drizzle with oil – sunflower oil, to be Bulgarian about it. (We used olive oil and that was also good.) Add some wine vinegar or lemon juice for tang.
The whole thing is a lot like the Greek salads you find at American diners (sans the olives and iceberg) – which is probably not a surprise, since Bulgaria is nestled along the Black Sea near Greece, Romania and Turkey. The variations on common themes that different cultures offer, based on their native climates and terrain, is endless.
And of course, cultural influences also provide the twists. The story on the Shopska Salad is that it was popularized by the Balkan tourist agency in 1960, when the then-communist country was trying to boost tourism. The branding effort worked, and though Bulgaria is still not the same draw as Disneyland, the Shopska Salad is on the menu for most any restaurant there (or so I am told).