Desirables
Fluorescents that Flaunt their Curves
Energy conservation meets innovative beauty in these new light bulbs.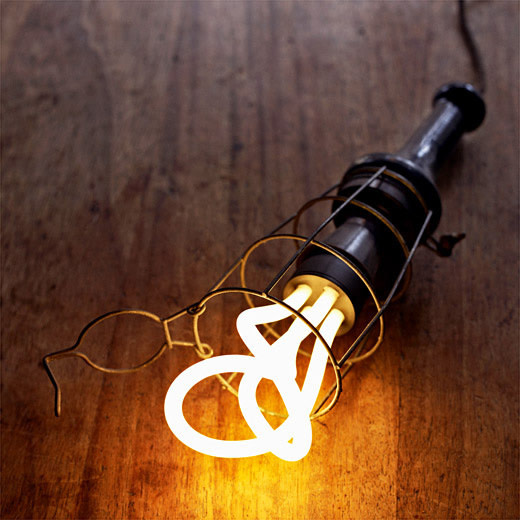 Plumen lights are flashy, but no, they don't flash. The flash is in their form itself. These twisted, loopy-looking CFLs beg to go shadeless. They're a new type of CFL – that means "compact fluorescent light" for those of us not yet fluent in 21st century lighting lingo. Like other CFLs, the Plumen bulb uses 80% less energy than a conventional incandescent bulb, and lasts eight times as long.
But besides the environmentally-friendly stats, the Plumen has little in common with other CFLs on the market. These bulbs are new, and they're already winning design awards. A 2008 prototype of the Plumen is in the permanent collection of New York's Museum of Modern Art.
They were developed and designed by Sam Wilkinson and the British design company Hulger, who wanted to take advantage of the fact that the glass tubes of a fluorescent light can be bent into just about any shape. Why not bend the tubes into a beautiful shape? The name refers to a bird's plume – an ornamental but functional part of its wing. (It's also a play on the word "lumen," but the company doesn't seem to be acknowledging the pun! Maybe the Brits just don't get it?)
Luckily CFLs and other energy-efficient lighting like LEDs (light-emitting diodes) are getting better as designers tackle the Federally-mandated challenge of making lightbulbs 30% more efficient in their energy consumption by January 2012. (The Feds aren't outlawing incandescents, just requiring that they somehow be more efficient; for the first year, the rule will only apply to bulbs of 100 watt light output.)
The Plumen bulbs are $30, and newly available in the U.S. at various outlets (sorry) including MoMA's online store (where members get a discount). You can also get the bulb (and watch a cool video of it spinning!) at the Plumen website.
For info on a more general (less lovely) range of energy-efficient bulbs, check out the recent New York Times article by Bob Tedeschi.