$10 and Under
Todd Oldham Brings Whimsical Charley Harper Designs to the Table
Harper was a fabulous mid-century modernist illustrator whose simple designs are being rediscovered and repurposed in tableware for today.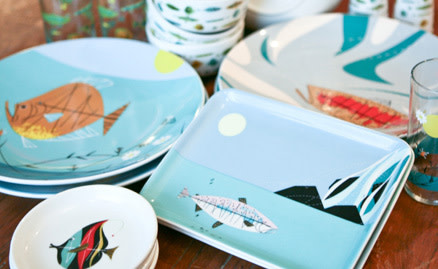 Charley Harper is one of those artists whose work is recognized more than his name is. Or at least it used to be that way. Designer Todd Oldham has spent much of the last decade changing that, bringing Harper's designs and his name to new generations.
In 2001, Oldham discovered Harper's work in a pile of old magazines at a thrift store in Pennsylvania. Or, to put it more accurately, he rediscovered Harper's work. The eclectic designer and tastemaker realized he had grown up poring over Harper's illustrations in The Giant Golden Book of Biology.
Oldham wasn't the only mid-century kid who got Harper's design sensibility imprinted on him at a young age. Harper was a highly-productive commercial illustrator who worked from the late 1940s into this century (he died in 2007) out of his studio in Cincinnati, Ohio. He designed and illustrated children's books, Ranger Rick magazines, cookbooks, magazine covers, maps, posters and countless ads.
Since Oldham made his thrift store (re)discovery, he has been performing a sort of rescue mission for Harper's singularly simple, colorful and clever drawings and paintings. The latest mission brings some of Harper's fish designs to a line of table and glassware available from Fishs Eddy in New York.
Colorful angel fish, puffer fish and trout swim happily on glasses, mugs, bowls, plates and platters. Larger pieces cost a bit more, but glasses are $5.50 or less, and smaller dishes, trays and bowls are also under $10.
My own Charley Harper (re)discovery came when I spotted in a bookstore the beautiful monograph, Charley Harper: An Illustrated Life, that Oldham put out in 2007. Flipping through this comprehensive book, I realized that I too had grown up with Harper's drawings, on the pages of my mom's very well-used copy of Betty Crocker's Dinner for Two Cook Book, from 1961. It had been a wedding gift – the first cookbook Mom ever had, needless to say!
I'd since found a copy of the book myself, indulging my own mid-century kid nostalgia. I've never dared to make any of the recipes, though. Maybe now, with some matching Charley Harper plates…?
More Charley Harper is also available at Anthropologie (1115 N.W. Couch, Portland, OR – (503) 274-0293) which has some of his wildlife images on fun cards known as the Memory Game. And check out the Charley Harper website for prints, cards, and more.