Out and About
Walk through the Victorian Era in Lair Hill
The Architectural Heritage Center tour of this tiny neighborhood is a reminder of the effort – and value – of keeping parts of the past.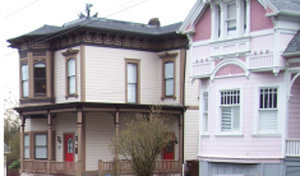 There's nothing like walking through a neighborhood to give you a real look into the place. Walking, you have the time to notice details and nuances and quirks of the architecture and landscaping that you'd miss otherwise. Even on a bike, speed and safety tend to be higher priorities than spotting ornately carved porch railings or dentils in a cornice.
Lair Hill is one of those neighborhoods that is well worth such a leisurely walk through. And why not take that walk with someone who can tell you about the place, its history and buildings? The Architectural Heritage Center holds neighborhood walking tours periodically. The next one is Thursday, August 18, 2011 through the tiny, inner-southwest, Victorian-era neighborhood of Lair Hill.
For most of us, Lair Hill is probably a place we barely see as we whiz by on the I-5/Marquam Bridge. Or we know it from peeking into backyards as we ride the aerial tram to OHSU. Indeed, Lair Hill has had its share of being hemmed in and tucked away by transportation projects going all the way back to the 19th century and Portland's early years as a harbor town and railroad hub for produce from Willamette Valley farms to the south.
Luckily, the neighborhood has also long fought to preserve itself. The effort of residents from the late 1960s on is evident when you walk down narrow streets lined with tiny, intricately detailed wood frame Victorians. Preserving the historic homes of Lair Hill was one of the sparks that led to the development of Portland's venerable neighborhood association system.
Back in 1970, still in the thrall of 1950s and '60s-style urban renewal – i.e., demo and rebuild, preferably with a whole new, much larger-scaled street pattern – the relatively young Portland Development Commission (PDC) slotted Lair Hill for complete demolition. (Remember, the high-rises of the South Auditorium "renewal" had only recently ripped down and replaced a vibrant, small-scale Jewish and Italian neighborhood just north of Lair Hill.)
At any rate, the people of Lair Hill, when they formed the Hill Park Association to save their neighborhood in 1970, gave Portlanders quite a gift: the legacy of activism and careful preservation as well the delights of the 20 or so blocks of Victorian homes. There is much more history to be learned about the area, and the AHC walking tour August 18 will be a great way to do that.
The tour starts at 6:30 p.m. Tickets ($10 for AHC members, $15 for the public) and pre-registration are required, and available online.