DIY
Wall Power
Walls are made to be drawn on when you cover them with this dry-erase paint.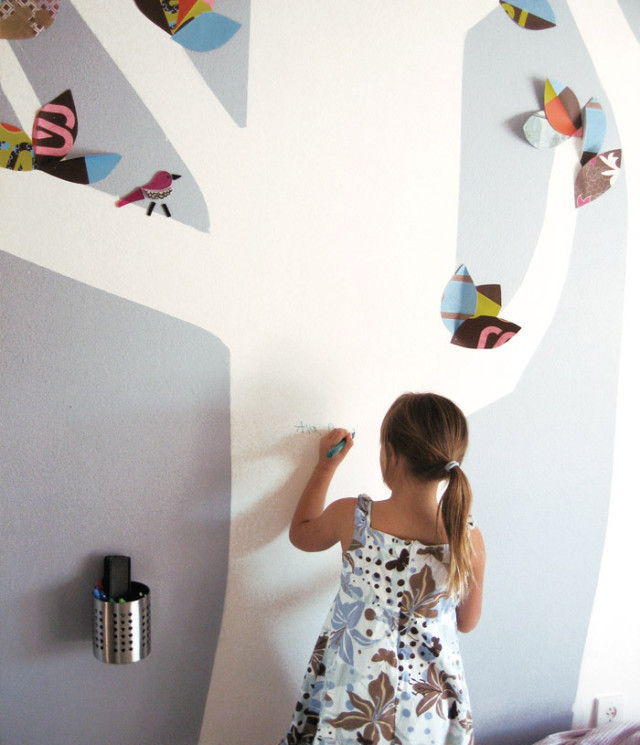 Dry-erase white boards are no one's idea of a design classic. They are ubiquitous in offices, sure; and they certainly are bright, but they're also, ahem, perhaps a bit dull? A tad bureaucratic or corporate? So despite their obvious usefulness, whiteboards are not at the top of the home design wish list for most of us.
But what if you could separate the good qualities of a dry-erase whiteboard from the bureaucratic boringness? That's what IdeaPaint has done. Whiteboards are awfully handy for brainstorming sessions or "to do" lists. They allow you to save lots of paper.
And white has its merits as a wall color, after all. You might even say it's due for a comeback, after years of sage, olive, pumpkin, persimmon and oatmeal hued walls. White is so clean and clear: a blank slate that doesn't just belong on modernist museum walls where the walls are supposed to be invisible.
IdeaPaint is a new paint that creates a dry-erase-ready surface on practically anything flat enough to write on. It doesn't have to be a wall. It can be a desk, or a door. A file cabinet. Or a fridge. You could paint the wall of a child's room with a simple design like a thick-limbed tree (one of their photo examples) or giant cartoon thought bubbles, or big swooshy clouds. You could put stripes down a long hallway or up a stairwell, against a bold backdrop color. Children's rooms, home offices, and kitchens are the most likely candidates for this contemporary whitewashing.
IdeaPaint comes in kits that are ready-to-roll and cover surface areas of 6, 20 or 50 square feet. The Pro and CRE-8 lines offer a few more colors than just bright white (orange, "brand blue" and tints of cream and gray), but are only available in the large size. The Home line comes in all kit sizes (plus a 3 SF kit that's not listed on the company's website but can be ordered). The 6 SF kit is $29.99 and 20 SF is $74.98.
The three-year-old company (founded by a Massachusetts college student) sells its product online at their website and at Lowe's home improvement stores.