Out and About
Yeon's Watzek House is officially a National Historic Landmark
The influential Northwest Modernist 1937 house, hidden in the Southwest hills of Portland, has made it to the ranks of National Historic Landmark.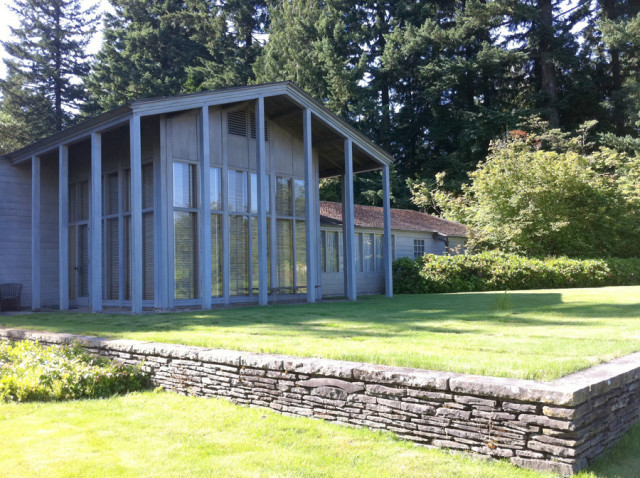 Oregon is known for a lot of things, but being a hotbed of influential 20th century modernist architecture is not one of them. Our claims to fame tend to be more humble, homegrown, and of the earth: Mt. Hood, the unspoiled coast, hazelnuts and hoppy beers, the wonky-sounding and invisible Urban Growth Boundary.
So perhaps it is appropriate that the latest Oregon building to be granted National Historic Landmark status by the U.S. Department of the Interior is a woodframe house quietly hidden behind dense trees off SW Skyline Boulevard: architect (and environmental preservationist) John Yeon's 1937 Watzek House. It is hidden, but well worth being discovered.
The house is a jewelbox, simple and elegant, constructed of local materials finely honed and pristinely but plainly presented. It is the sort of building that looks better – and more inviting – in real life than in photos. Pictures show the main façade – the east portico – as monumental in its simplicity, the slender wood columns imposingly tall. But up close, the place is modest, human scaled, inviting to the touch.
Architects and design-types have loved the house since it was constructed. (They still do: see our discussion from April 2011, where a panel of five architecture experts agreed it was #1 of Portland's top ten greatest homes).
The building has an interesting story, as does the architect himself. While the house was Yeon's first built project, and he was only 26 when it was completed, it was widely published and even exhibited (twice) at New York's Museum of Modern Modern Art. At the time, and even now, it was a pioneering and hugely influential example of Northwest regional modernism with its graceful attachment to the land, indoor-outdoor seamlessness and use of natural local wood and stone materials, unadorned.
Yeon was a Stanford drop-out, but he was well-connected and well-educated: yes, that's his family name on the street signs for Portland's Yeon Avenue; his dad was a timber baron and overseer of the construction of the Columbia River Highway. As a teenager he'd traveled extensively in Europe (including Scandinavia), and apprenticed for the well-known A.E. Doyle firm, where Portland's better-known architect, Pietro Belluschi, was an up and coming project manager.
Yeon got the commission for the Watzek house from a friend, Aubrey Watzek (another timber baron like Yeon's father). He ended up completing the project under the auspices of the Doyle firm. Interestingly, Belluschi was known to take credit for the acclaimed building without clarifying that he hadn't actually designed it. Such is life in the world of architecture and egos!
It's a wonderful building, well-loved and, more importantly, well-preserved. The exterior is a smooth, unpainted, silvery-gray-stained spruce tongue and groove siding. Wood mullions frame the windows (many of them double-paned, operable, and with wooden louvered blinds that retract into a slot at top). An interior, open-air courtyard is paved with Tenino sandstone salvaged from a demolished Oregon courthouse, and colorfully planted with ornamentals and annuals. The landscaping is lush with native plants surrounding a terrace and velvety lawn off the living room.
Since 1996 the Watzek House has been owned by the University of Oregon as part of the John Yeon Center for Architectural Studies founded with the gift of the house and an endowment from Richard Brown, Yeon's longtime companion who worked with Yeon and lived in for decades). The university plans to offer periodic tours and has inked a deal with prominent historian Marc Treib to write a monograph on Yeon's work.
The landmark designation brings Oregon's total number of National Historic Landmarks to a whopping 17. Most of these are large scale, public infrastructure projects – Bonneville Dam, the Columbia River Gorge scenic highway – or historic districts like Portland's Skidmore/Old Town district. Only six of the other landmarks are buildings; most of these are rustic park structures, like Timberline Lodge or the Crater Lake Superintendant's Residence. (Oh, and the rather distinguished Pioneer Courthouse.)
It is interesting to note that the controversial, loved-and-hated Memorial Coliseum was awarded a place on the National Register of Historic Places – a designation of state and local, but not national, significance. So the humble, single-family Watzek House becoming a national landmark is all the more remarkable.
For more information, check out the great article on Yeon as architect and environmental preservationist (by our editor, Randy Gragg) and the University of Oregon's John Yeon Center website.