plant of the week
A Splash of Cool Pink in the Late Summer Garden
Cyclamen hederifolium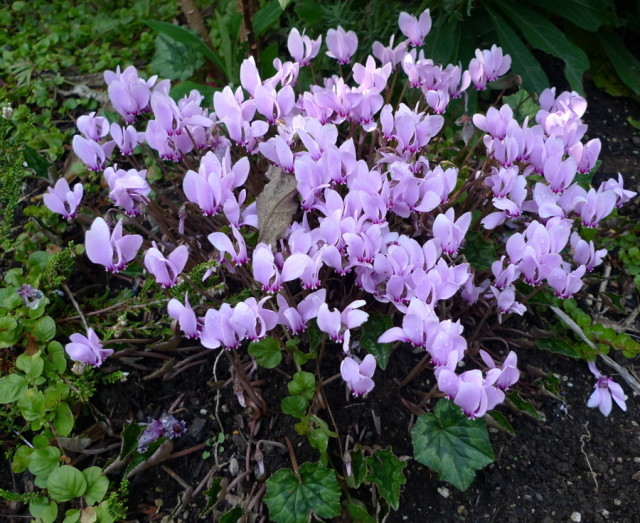 About two weeks ago, when the first rains of the fall prematurely smote our little part of western Oregon, the Cyclamen hederifolium flowers popped up. They always do this starting with the first rains of autumn – the rains just came a little early this year.
Cyclamen hederifolium is a funny little plant with a curious life cycle. Delicate little 4" tall whirligig pink or white flowers appear before the leaves, usually starting in September or so and lasting for months. The leaves – also low-growing – show up some time in October: leathery and shaped a bit like ivy, they are usually marbled gray-green, but forms can be found with pewter, silver, cream or pink-flushed green foliage.
So when the flowers finish, some time in November or so, the leaves are there looking pretty and forming an elegant, handsome evergreen ground cover through the frost, ice and snow of winter. As summer arrives and the ground dries, the foliage disappears below ground the the summer and it's easy to forget it was ever there. But as the the first rains arrive, the plant springs back into growth and the flower reemerge, dazzling and pink in the waning late summer light.
The tubers are long-lived, growing fatter and wider every year until they reach dinner plate size. (I've seen one nearly 10 inches diameter!) Apparently, some individual tubers have been found to be over 100 years old! Cyclamen hederifolium are perfectly cold-hardy in Western Oregon and naturalize in (periodically mown) grass under trees beautifully… and marvelously, they do not require summer water, so they are the ultimate eco-friendly, environmentally sound plant for our climate.
Cyclamen hederifolium are native to evergreen or deciduous woodlands, in ravines and gullies, or occasionally on rocky river banks throughout southern Europe from south and south-eastern France to southern Switzerland, former Yugoslavia, Greece and Bulgaria, as well as western Turkey, including the Mediterranean islands of Corsica, Sardinia, Sicily, north and north-west Crete and many smaller Greek islands. All that just in case you're planning any upcoming trips and want to admire Cyclamen in the wild… now you know where to go.
Locally, you can find Cyclamen hederifolium tubers at most plant nurseries with good bulb offerings but only through the early part of the bulb season. Some time around now, they start flowering in the bulb boxes and the kindly nursery staff mercifully begin to plant them in pots, at which point you will probably pay a little bit more for them than if you'd bought them just a few weeks before in the bulb department.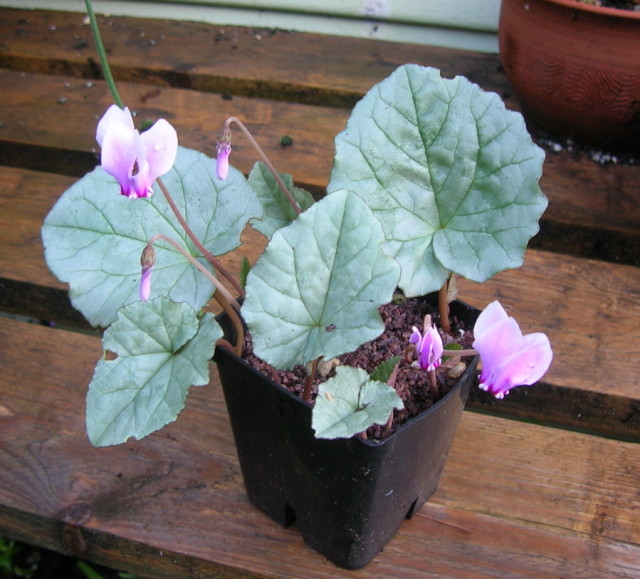 Poke around online (or get a hold of the now out-of-print Timber Press monograph by Christopher Grey-Wilson titled "Cyclamen: A Guide for Gardeners, Horticulturists and Botanists") and you'll soon discover the many species of Cyclamen that flower during nearly every month of the year. Each has slightly different foliage, flower size and color, and cultivation requirements. And a surprising number of them are perfectly cold-hardy here in western Oregon.
Buy them:
Plant Delights Nursery
Edelweiss Perennials
Learn more about them:
Cyclamen Society