DIY
ADX: Making It In PDX
A welcoming community work space for designers and makers of all levels.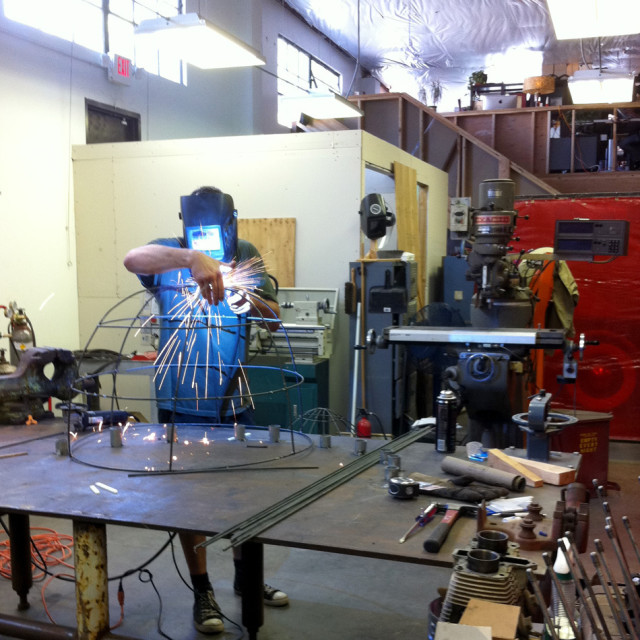 ADX just opened at the beginning of June, but already it's been home to a lot of welding, cutting, polishing, trimming, stitching, and any number of other hands-on, roll-up-sleeve activities. Metal, wood, plastic, leather, paper and other real-world materials have been transformed from one state of being to another, according to someone's design (or accident), in the big warehouse on SE 11th Street in Portland's Central Eastside.
With more than 120 people now signed up as members of the 10,000 square foot community design shop, the high-ceilinged work spaces can be bustling, but also quiet at times – even artists have to sleep. The atmosphere is a little like an art classroom, woodshop or architecture school studio, but without the intimidation factor or jockeying to be teacher's favorite.
As co-founder Kelley Roy puts it, when you come into ADX, you "let go of your ego." The philosophy is that anyone can be an artist, and that art and industry merge. You don't have to be born knowing what a CNC router is (hint: it doesn't get your wi-fi to your laptop). You don't have to dream of having your own MIG welder or laser cutter. You just have to want to make something, to think and create and explore design ideas, be it a table or a tablecloth, a sculpture or a settee, a boat or a business card made of laser-cut wood – in an open, community atmosphere.
The collective studio format offers the big expensive machinery that some people do dream about but don't have the money or the space to actually own. MIG welders, bandsaws, CNC routers and laser cutters aren't just something we pick up at Freddy's on the way home from work. But we can use them, or learn to use them, at ADX – at practically any hour of the day, after work or on weekends.
Cost of membership and access to tools varies according to your time and machinery needs. For example, the industrial sewing machines (they can handle leather and vinyl) can be used through a basic monthly membership ($40/month) for $5 an hour.
The ADX emphasis on inclusiveness extends to all stages of a project, from feasibility of initial production to business strategizing and marketing. Roy and her co-founder, Eric Black, are trying to bridge a gap between Portland's DIY-ers making things in basements and at coffee shop craft nights, and the larger-scale of producing more than one or two of our wonderful creations for Mom and Aunt Julia.
That chair you found by the side of the road: could it be replicated? Could you make and sell a few hundred of them? ADX helps with that sort of creative question. (Actually, that question "walked in off the street" the other day. Stay tuned for what they decided. I hope it's a yes, because the chair was really nifty!)
In the meantime, while that and other design dreams and dilemmas get worked through, check out what ADX members have made so far. The ADX Fabrication Fest is taking place the weekend of September 16-18. The exhibit and special events start at 6 p.m. Friday, September 16 with a kick-off party (including Widmer Beer, Fifty Licks ice cream, Hungry Heart Cupcakes, and Domo Dogs – which I presume don't go "roof", but I'll have to find out).
And in case you're dying to know, a CNC router is a "computer numerical control" cutting tool for wood and plastic. In other words, it's a step up from the X-acto knife.
ADX
417 SE 11th Ave.?
Portland, OR 97214
[email protected]?
503–915–4342