Out and About
Utility, Beauty and the Bicycle
Improving the design of the bicycle? Yes, there's still plenty to do, and Vitruvian principles apply.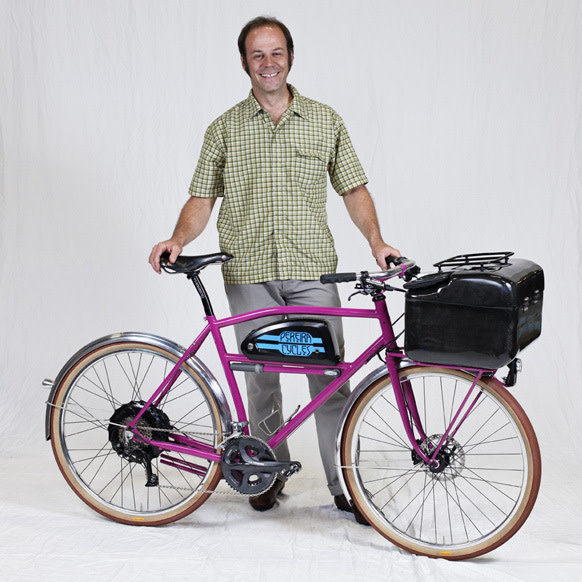 The epitome of a lovely Portland evening, circa 2011. A Friday night in late September. Indian summer weather, glorious, sunny and mild. Something was happening in the Pearl District: clumps of people gathered outside the Pacific Northwest College of Art at NW Johnson and 13th Street. Bikes. Lots and lots of bikes. The giant bike parking corral was bursting.
People streamed in and out through PNCA's big front doors – but not just artsy students. Young and old, front-packed babies and gray-haired couples. Inside, more people. And more bikes – bikes on display. It was the exhibit of the Oregon Manifest Constructor's Design Challenge. Some 34 contest entries were lined up, all being intently scrutinized, oohed and aaahed at by hundreds of people.
There was beer (microbrew, of course, from Hopworks). There was music (loud and dancey). It was hot and humid, like a college frat party for all ages. You had to push your way up to get a good look at the bikes.
But once you did: well, they were good-looking (the bikes, I mean). And even as the evening epitomized Portland 2011, it brought to mind the ancient Roman architect and writer Vitruvius, who coined the phrase, "Commodity, firmness and delight" to describe the qualities that architecture should have. Because that's what these bicycles had.
The Oregon Manifest Constructor's Design Challenge is a bike contest which for three years running has asked bike-makers of all stripes ("bespoke bike craftsmen, designers and student teams," as corporate sponsor Levi's puts it) to come up with improvements in bicycle design. This year's problem (the contest will be biennial in the future) was to "develop the ultimate modern utility bike: a better bike for everyday riders."
As the Oregon Manifest website describes it, the bicycle is in many ways a "mature design form…basically perfected a century ago with the double-diamond 'safety bike' frame design, and…almost impossible to significantly improve on." That's what gets me thinking about Vitruvius and his timeless criteria for good architecture: they apply to buildings today, and also to bicycles. Good design serves basic human needs unchanged since when Vitruvius lived more than 2000 years ago, in the early days of the Roman empire (he died in 15 B.C.).
The three criteria are: commodity (or, in Latin, "utilitas" – everyday functionality); firmness ("firmitas" – durability, or the ability to stay in good condition), and delight (or "venustas" – beauty and the ability to raise our spirits). These qualities were really what the design challenge proposed: a good everyday bike that regular people will want to ride. And indeed, that was what was on display at the Oregon Manifest show, in many shapes and sizes, but all with the essential qualities of "mature bike design" and thoughtful, meaningful real-world details to improve the bicycling experience.
The winner was from Tony Pereira (of Portland's Pereira Cycles). His bike wasn't as stunningly gorgeous as some of the other entries (despite its hot pink color), but it had three basics which the judges appreciated: an electric "assist" motor, a locking storage box (like the trunk of a car), and a built-in sound system (the "boombox"). Those are three basics we count on in our hard-to-give-up cars, you might notice. It's also a good manifestation of commodity, firmness and delight, even though Vitruvius might not have known what to do with it!
Jonathan Maus's BikePortland has great coverage of all the bicycles and the field test ride they had to go on (proving that they could carry the cargo!). The judges' comments are well worth reading, since the jury was four guys who are heavy-hitters in the bike and design worlds, including Tinker Hatfield (Nike innovation maven) and Rob Forbes (who founded Design Within Reach). I of course was not one of the guys on the panel, but for what it's worth, my fave was probably the cargo bike from Art and Industry, co-made by a bike-builder and a shipwright who live here in Portland.