Article
Floral Firecrackers
Crocosmia and why they are so fabulous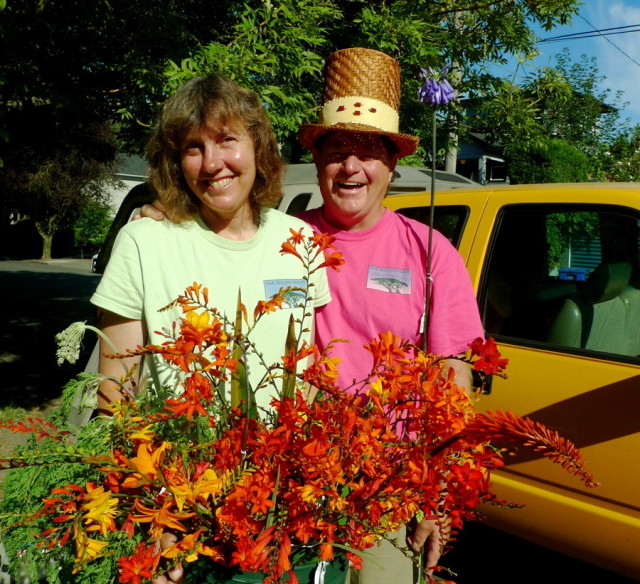 Two renowned plantspeople – Kelly Dodson and Sue Milliken, owners of Far Reaches Farm – recently made a stop in Portland to sing the praises of the bright, easy-to-grow perennial plant called Crocosmia.
Now, hold your horses – before you start grousing about how invasive crocosmia are (and yes, some of the group of hybrids known as Crocosmia x crocosmiiflora can be aggressive in coastal areas of California and Oregon), just know that not all Crocosmia are so aggressive. In fact, most are just perfectly delightful little garden plants that spread politely by corm.
Crocosmia is a genus in the iris family hailing from tropical and eastern South Africa. Plants grow from corms and have erect, sword-shaped leaves and spikes of open or tubular to funnel-shaped flowers ranging from clear to burnt orange and red to apricot, yellow, and bicolors.
Plants can range from 2-4 feet high, depending on species or cultivar, and flowers can range from petite to nearly two inches in diameter. Flowering usually begins in July and, when plants are deadheaded regularly (the best way to do this is to simply pick bouquets all summer), then rebloom sometimes occurs.
In recent years, hybrids have been developed with interesting chocolately foliage which compliments the warm yellow and orange flowers and makes for some nice color contrasts in the garden.
There are hundreds of species and hybrids in existence: Kelly and Sue have collected over a hundred, and currently have 23 available on their website. (That's about 20 more than most local retailers offer at any one time.) See Far Reaches' selection of gorgeous crocosmias here.
There's much to love about these cheerful, long-blooming plants. But without a doubt, the best thing about them is the opportunity they provide to watch hummingbirds up close: hummers swarm around the flowers, from the moment they appear until the last petal drops.