things to do
It's Dahlia Season!
two local treasure-troves of dahlia lusciousness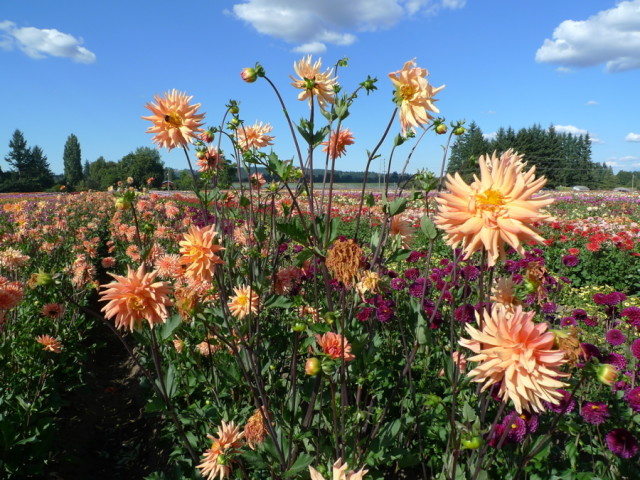 Dahlia season is really here in the Portland area, and we are fortunate to have two great local dahlia growers in our own proverbial back yards. Both dahlia growers sell dahlia tubers to order for next spring… but you can also buy armloads of cut flowers for quintessentially lush, late summer bouquets.
Swan Island Dahlias is in the midst of their Annual Dahlia Festival. It started last weekend and continues through Monday (September 3, 4 and 5, 2011). The festival takes place at their farm in Canby and makes a lovely day or half day excursion.
Where to find them: 995 NW 22nd Ave, Canby, OR 97013
CONTACT: 503-266-7711 or toll free 800-410-6540 / www.dahlias.com
If you can't make it out there, you can order their dahlias by phone or on line
Old House Dahlias is open every weekend from August through frost but their Dahlia Fest takes place Sat and Sun September 10 and 11 and Sat and Sun September 17 and 18 from 10 to 5. They also have self-serve cut flowers – just drop by and pick up a fresh bouquet. Or order tubers for next year at the Dahlia Festival (you can browse catalog but on-line sales are closed for the year.) My favorite part about Old House Dahlias? You can bike there… just make sure you take a bike with a big basket for flowers.
Where to find them: 8005 SE Mill St., Portland, OR 97215
CONTACT: 503-771-1199 / www.oldhousedahlias.com