Desirables
Design Within Reach More Within Reach?
No one ever said Design Within Reach meant prices within reach, but the 15% off dining sale is one of several local sales that might help.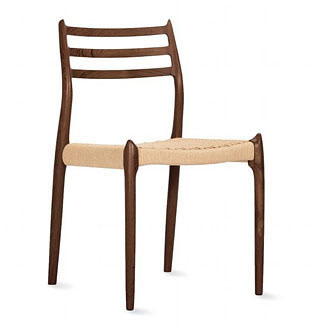 Summer holiday is over. School has started. Fall is near. It's getting dark so early. That's all well and good, and fall can signal new beginnings. But it can also be a downer. So what's the upper to balance you out? Hit the stores for fall sales!
For instance, we might have already enjoyed all the nice dinner-outside nights we're going to get this year. But retreating to the indoor dining room could be more inspiring with a new set of dining chairs. Design Within Reach (DWR) has a large selection (online and in their store in the Weiden and Kennedy building in Portland's Pearl District) at 15% off. (That might just make the difference between making Dad stand and letting him sit, come to think of it, when the family comes to visit at Thanksgiving – get six for the price of five, almost.)
Dining chairs are a good long-term investment. DWR carries a range, from Piana red folding chairs (one of the cheaper offerings, with sale price $190) to… well, I rather like the Mantis side chair, carved out of solid walnut, discounted to about $2000. Alongside the usual mid-century modern Danish classics (like the Moller chair pictured), don't forget that other true classic from the mid-19th-century, the bentwood Thonet chair. Thonet chairs have been fitting beautifully and durably into all sorts of home (and café) environments since 1859. They're a veritable steal at $127, in colors including Mountain Dew green and poppy red.
Once you've got your seats arranged, accessories become necessities. Tilde has them (table runners, vases, etc.) at 20% off Saturday September 17. The occasion is their 5th anniversary, and they'll party with coffee in the morning, sushi and wine in the evening to get us into the indoor entertaining mood.
Last sale for the day, since you'll be exhausted: handmade Lapchi rugs at its Urban Home Outlet in Southeast Portland. The local second-floor warehouse retail space is open to the public for its September sale.
I'm exhausted just thinking about it. I think I'll go out for dinner somewhere. But I'll be planning some indoor dinner parties, I promise.