plant sale
Hardy Plant Society of Oregon's Fall Plant Sale & Garden Festival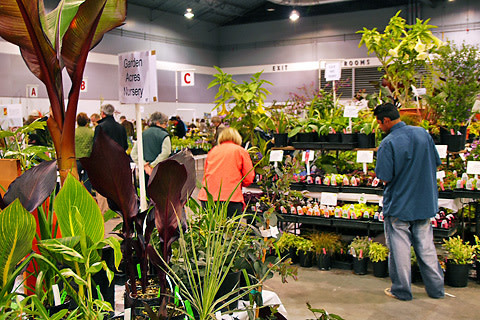 The Pacific Northwest hosts some of the best plant sales around. We can thank our good fortune on the concentration of micro-nurseries brimming with interesting plants, mostly propagated by the hands of the very plant aficionados who are selling the plants.
Twice a year, we can simply head to this one location (in recent years, it's been the Expo Center) and browse through this thoughtfully-curated selection of plants with the very plant aficionados who grew the plants standing right there, game to answer any and all questions lobbed their way.
So support small nurseries (and score a few fantastic plants): get thee to the Fall Plant Sale this weekend. If you've never been, it's a great way to meet the plant fetishists who run the nursery. Some of the nurseries are in remote corners of Oregon or are wholesale-only; others are heavenly little retail businesses that welcome visitors to their greenhouses, sales area and display gardens.
There is also garden art at the sale,, from furniture to lighting, sculpture, clay pots and decorative elements.
Sale Details:
WHAT: A truly diverse and lively plant sale where you can find everything from rare shade plants to succulents and alpines, fuchsias, clematis, grasses, trees (everything from Heptacodium to Japanese maples), drought-tolerant plants or simply whatever tickles the sometimes idiosyncratic fancies of our local nursery owners.
WHEN: September 10 & 11, 2011, from 10 am to 3 pm
WHERE: Portland Expo Center