DIY
Photos Go From Digital to Plywerk
Plywerk will print and mount your digital photo files onto elegant eco-friendly "frames."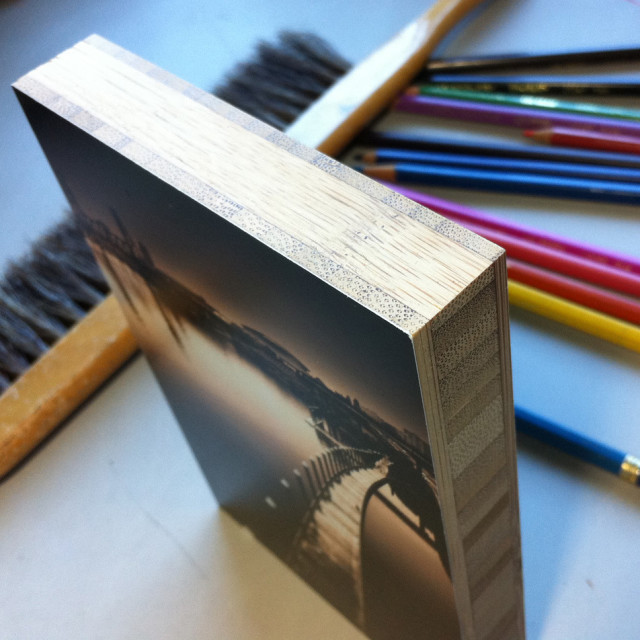 Framing pictures always presents a quandary. What kind of frame will best show off your photo – and not distract from it? How much money is the frame going to set you back? Should you mat the image? And how do you get that super clear photo out of your IPhone or digital camera and onto actual paper – but still have it look sharp and clean? So many decisions, so many excuses just to leave the photo in digital limbo.
But a physical print of your favorite photo is such a treat to look at not just for a few moments on the computer screen, but on the wall or the desk or the mantelpiece every time you walk by it. (I tend to put up photos and just leave them there; my niece will forever be that little munchkin, wearing just a diaper, "reading" a book upside down. I'll stop and stare at the photo, and just smile at how little and cute she was.) However, my DIY collection of home-printed photos in hand-me-down frames leaves a bit to be desired.
Plywerk could really clean up my gallery. They're a local (NE Portland) company that does digital photo mounting on sustainable wood panels. You upload your digital photo; they make a great print of it and mount it pristinely on a solid, elegant maple or plywood backing. They mail it back to you – unless you happen to be one of their Northeast Portland neighbors: Kjell and Kim, the husband and wife co-founders, still have a studio in the basement of their home.
The backing is 1/2-inch Baltic maple or ¾-inch bamboo – more than hefty enough to stand on its own on a desk or mantel, but easy to hang from the little keyhole opening cleanly carved into the back. All the wood is sustainably harvested. The bamboo hails from China, but the Plywerk crew is working with local supplier Bamboo Revolution to get materials from closer to home if possible.
Prices start at about $18, and depend on choice of backing, photo finish, and size. The largest format is 35" x 40". Larger images can be mounted on multiple panels. Jade Teahouse in Sellwood is a veritable gallery of Plywerk-mounted photos, small and large, single and multiple panels.