things to do
Two Tomato Taste-Offs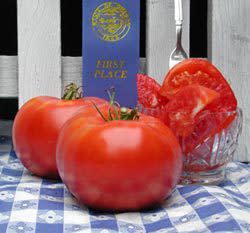 As if one Tomato Taste-Off wasn't enough, there are two coming up on the next couple consecutive weekends. Both should provide sampling opportunities and a chance to compare varieties and decide which you'll want to plant next year.
What: Territorial Seed Company's 11th Annual Great Northwest Tomato Taste-Off
When: Saturday September 10 at noon
Where: Territorial Seed Co. retail store, 20 Palmer Ave., Cottage Grove, OR 97424
Contestants from all over the Pacific Northwest and beyond will compete for the grand prize of $500 for best-tasting tomato. The second-place tomato grower receives $250, and third place wins $100. The panel of judges includes chefs, growers and tomato-growing experts.
Contestants and observers are asked to bring extra fresh garden produce to donate to Community Sharing, Cottage Grove's local food pantry. Canned or boxed food will also be accepted.
After the Taste-Off, Territorial's certified organic trial and research farm will be opened to the public, with guided tours throughout the afternoon. Visitors will have the chance to see vegetable, flower and herb varieties offered in the catalog, as well as potential new varieties.
For complete tomato Taste-Off contest details and an entry form, go here or call 541-942-9547.
No time to drive out to Cottage Grove? There's another tomato event the following weekend in Lake Oswego:
What: Dennis 7 Dees 7th Annual Tomato Taste-Off
When: Saturday, September 17 from 10 – 3
Where: Dennis 7 Dees Lake Oswego Garden Center, 1090 McVey Ave, Lake Oswego, OR 97034
Sample new, heirloom and unusual tomato varieties and vote for your favorite!
?
?
?