Desirables
Bamboo With Benefits
A Poulsbo, WA couple design El Dot furniture, made from bamboo harvested and handcrafted in Nepal.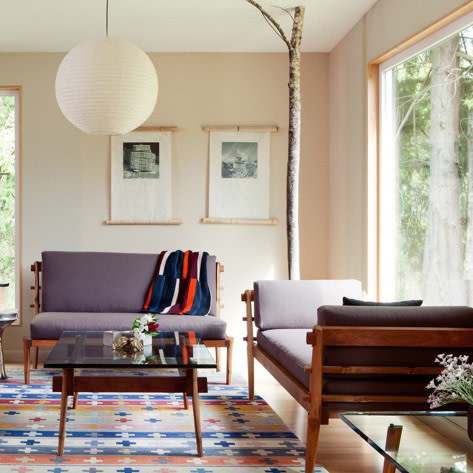 They just might be a multi-cultural, modern-day Charles and Ray Eames. Leo and Lishu Rodriguez are a young designing couple with wide-ranging, worldly interests. They live not in Los Angeles (they left in 2003) but in Poulsbo, WA, where they raise a family and design a furniture line, El Dot, launched in June 2011. And like the Eames's, they are using old materials in a new way. Where the Eames's took bent laminated plywood and crafted it into chairs and tables after World War II, today the Rodriguez's are transforming bamboo into their own simply constructed high-end basic furniture.
Not insignificantly, Leo and Lishu have a combined Venezuelan and Nepalese heritage; when they left LA years ago, it was to move to Nepal. There, the furniture line was conceived. Living in Katmandu, they noticed that fast-growing, ubiquitous bamboo was being used as the "poorman's timber" for scaffolding and other low-rent structures.
Bamboo seems like a happy accident, the natural-born baby arrived to fulfill the materials needs of sustainability minded designers everywhere, and more and more people are recognizing its potential. It grows faster than the fastest-growing deciduous trees while producing 30% more oxygen than said trees, and clocks in with a tensile strength greater than steel. That's strong.
Initially, in Katmandu, the Rodriguez's custom-made their furniture designs. But coming back to the States, they've expanded in scale to produce a concise line that covers basic needs for living room, bedroom, and office. Prices are no match for Ikea, but then, neither are craftsmanship or materials. The clean-lined pieces are handmade by Nepalese craftspeople from two kinds of timber bamboos abundant in Nepal. The designs would be just as at home in a craftsman bungalow as in, well, the Eames House in Malibu. I have a feeling Charles and Ray would approve.
Shop El Dot's online storefront at Supermarket (with free shipping of the flat-packed pieces). And the benefits keep multiplying: El Dot is currently contributing 20% of sales to fund educational programs for children in Nepal.