$10 and Under
Closet Case
How to make a trip into the closet not so scary.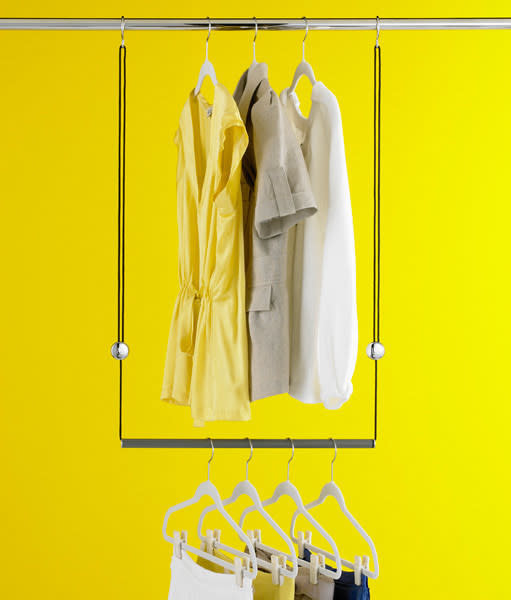 They are at opposite ends of the spectrum, but two common home life situations at some point force an otherwise lazy person to do some extra housework: living in a place for a long while, or moving into a new place with a new partner. Both call for some variation of the old purge and merge.
Accumulation usually occurs after many years living in the same home. Moving often precipitates a cleaning out of stuff, so that one can move cross-country, say, in one U-haul rather than two. But what if you don't move: you like your house and want to stay? Or someone moves in, the new love of your life, and now you have to share your space? A long look at the closet is necessary, though not necessarily enjoyable.
It is doable, however. And there are degrees of solutions, so let's start with easy. We'll save the custom closet consultation for another day (please skip to the end of this post if that day is today!).
For now, its bins, boxes, rails and racks, all ready to go. Ikea, Target, Storables and the Container Store can solve our basic needs. It's a problem of geometry – how best to divide that rectangle of a reach-in closet into smaller efficient spaces. Or, in English muffin terms, how to use all the nooks and crannies.
The biggest bang for your buck comes from doubling the closet rod space itself with a secondary lower hanging rod. It helps if you're clothes are small, or can be folded, but for $9.99, a hanging rod is a simple, inexpensive solution to the question of where to hang your main man's shirts and pants! Storables has a simple cord-and-rod system for $9.99 that you can adjust as needed – raise the rod and/or extend the width.
For foldables like sweaters and t-shirts, a soft-sided hanging shelf organizer can be had for $12-$26; these loop over the closet rod with Velcro or a metal hook. And Ikea has a triangular tri-level mesh basket system for $4.99 – it velcros over a closet rod and fits snugly into a corner. Perfect for socks, undergarments and other scrunchables. Add a wire shoe rack on the floor, or over-the-door hanging shoe holder (like file folders for shoes), and you've got all angles covered.
Nothing like immediate and inexpensive solutions to help you merge closets with a new partner or make room for your own new fall apparel.
And someday: when you are in the mood to dream, there are lots of custom solutions to be had. Have California Closets come by for a complimentary in-closet consultation. Closet Maid (at Lowe's) can install a whole new wire or wood shelf and rail system, and has on-line guidance for what to measure and consider in designing for your needs.
Niftiest of all, the Container Store offers an online design tool that walks you through creating a new closet with their Elfa system; they prompt you with suggested dimensions, door type, wall structure, and a choice of shelving materials. You press a button, and there it is, your dream closet, in plan and section, including clothes sketched in. Depending on choice of materials (wire is least expensive), it might cost $650-$1500 for a typical double-door closet. Definitely worth planning for someday.