weekend garden project
Coming In From the Cold
how to overwinter tender plants indoors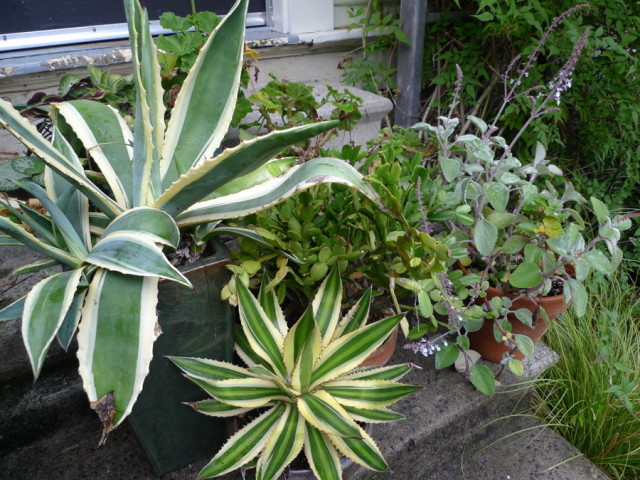 In the Portland area, the first frosts usually arrive towards the end of October or early November. So now's the time to take a close look at any houseplants you put outside for summer vacation, or tender outdoor container plants you bought this spring or summer that you might like to keep for next year. You'll now want to clean them up and get them ready to spend winter indoors.
Are you ready? Here's what to do:
Select the plants you want to save.You'll have the best luck if you start with healthy plants, as moving and transplanting can be stressful on a plant.
Once you've selected the plants you want to save, check for insects. Wash off any you find with a stream of water under a tap or with a hose. Use your fingers to rub insects off under a stream of water, giving special attention to new growth, where aphids often live. If there's an infestation, drench the plant with Safers soap a few times for a week before bringing it indoors. Also remove dead foliage to discourage disease and insects, and prune back any lanky growth. While you're at it, give plants one last drench of water to flush out any fertilizer salts from the roots and make sure the entire root ball is damp. And be sure to wash off the sides of any pots, not only because it's a pain to do it inside but also because there could be insect eggs attached. Naturally, it's best to do this messy stuff outdoors, before bringing the plants inside.
If you're bringing your plants into a heated part of the house, you might set them on a tray of pebbles with water in it. The pebbles keep the pots out of contact with the water but as the water underneath evaporates, it humidifies the air around the plants. You can also use a little squirty mist bottle, if you enjoy that sort of thing.
Once you've settled the plants into their new home – whether it's in the main part of the house or an out-of-the-way area – check plants weekly for moisture and insects. Most plants should be allowed to dry out a little between watering. Clean off any dead foliage as the winter progresses, as it can harbor insects. And expect a few insects: it's almost inevitable. Catch them early and they won't proliferate!
Come April or May, ease your plants back to life by gradually increasing watering and light. By late March/early April, you can begin to apply quarter or half strength fertilizer. You can bring them outdoors again around May or early June, when temperatures are consistently warm.
Here are some plants that are best brought indoors at this time of year:
Houseplants
Examples: Orchids, indoor ferns, Clivia, succulents and cacti like Christmas and Thanksgiving cactus, etc.
Most houseplants are happier when given a "summer vacation" outside in the natural environment. Outdoors, they can put on great spurts of bushy, healthy growth in summer that can help sustain them through our long, gray winters by the windowsill. But while Cymbidium orchids and Christmas cactus need a little chill to set flowers, most houseplants are tender tropicals, and must come indoors before frost.
Tender succulents and cacti
Examples: more tender succulents like Echeveria, Cotyledon, and Senecio
We've all done it: splurged on some gorgeous succulents in spring and summer, only to realize that the tag says "hardy to 20 or 30F". If you love that gorgeous, ruffly-leafed Echeveria and don't want to watch it turn to mush, bring it in in the next couple of weeks.
Most succulents need maximum light in winter. If you don't have a big, bright window, consider setting up grow-lights. Most succulents overwinter well in warm household conditions.
Seasonal flowers including annuals, tender perennials and "tropicals"
Examples: zonal and scented geraniums, begonias, Abutilon, Fuchsia, Cuphea, tender Salvia (like S. leucantha and S. elegans) as well as tender "tropicals" like Meyers lemon or blood orange, tender bananas or cannas, and bougainvillea
These plants overwinter best in a cool, bright area like an unheated mudroom or vestibule, sun porch, or even a drafty windowsill. If given enough light, they will even flower throughout the winter.
If you don't have enough window space and you just want them to survive so you can replant them next year, stash them in a cool but not freezing part of the basement or garage near a window where their scruffy appearance won't bother you. If they're in unwieldy pots, dig them out with a good chunk of root ball and either repot them in smaller pots or just heel them in, all squished together, in trays or buckets of potting soil that you can easily lift and move. They don't need to be pretty over the winter: their roots just need to receive occasional water – just enough to survive in a dormant state over the winter. Even if the tops die down and the leaves drop, the roots usually stay alive.