weekend project
Garlic-Planting Season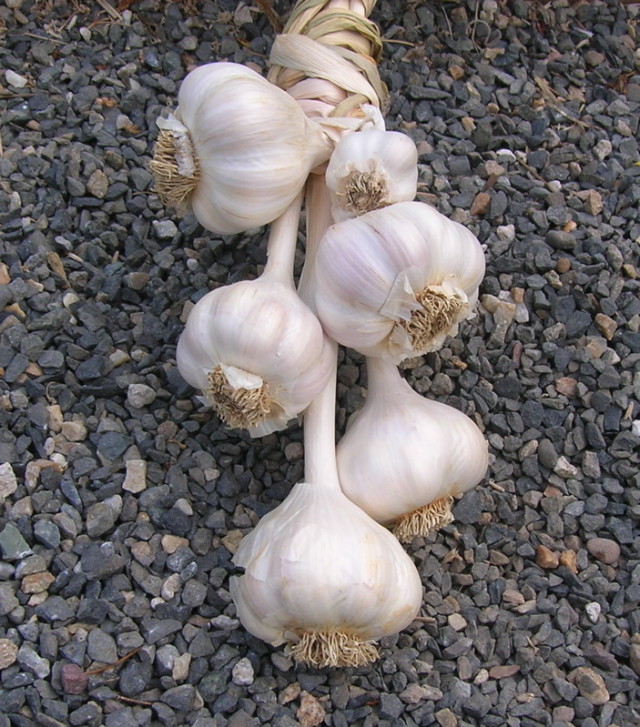 Late October to early November is the time to plant garlic in our region. Fall planting ensures strong root development before the first freeze, which helps plants grow more quickly the following spring.
There are two main types of garlic: hardneck and softneck.
Hardneck garlics have large, easily peeled cloves with bolder flavor, and tasty, edible scapes (the curlicue flower stems that appear in farmers markets come June). Milder softneck garlics store well – most commercial garlic is softneck, due to its better storage capacity. Softneck is also the kind to grow if you wish to braid the tops to hang in your kitchen, near at hand.
Both types need little more than rich soil, good drainage, consistent water, and a sunny spot in the garden.
Don't plant cloves bought at the grocery store—some commercial producers spray bulbs with growth suppressant to discourage green sprouts. Buy heads at your favorite local nursery or farmers market, where you can choose from dozens of culinary varieties, such as Early Italian Red, Spanish Rojo, or Thai Purple. Break cloves apart just before planting; place the larger cloves three to four inches apart with tips up; cover with one to two inches of soil; and water. Plant the large cloves and just eat any that are small – the larger the clove you plant, the larger the resulting head of garlic that grows from it. So just plant the big fat ones, and then set aside the best of the bunch to replant next year. Over time, you'll be selecting for size and vigor in our own garden conditions.
Garlic is usually ready to harvest from late June to mid-July, depending on variety.
Sources:
Hood River Organic Seed Garlic – this website has a fantastic calendar and all variety of tips and resources for growing, cultivating and harvesting garlic.
Naomi's Organic Farm Supply is a great source for a huge selection of garlic varieties. Visit their mobile shop at People's Food Co-op on Wednesdays from 2-7 pm (3029 SE 21st, between Powell and Clinton) or email or call for information on their drop-sites around Portland and southwestern Washington.
Urban Farm Store at 2100 SE Belmont has a good selection of varieties.