Desirables
Lusting Over Bathroom Luxury
Be careful when taking house tours, green or otherwise: serious envy may result.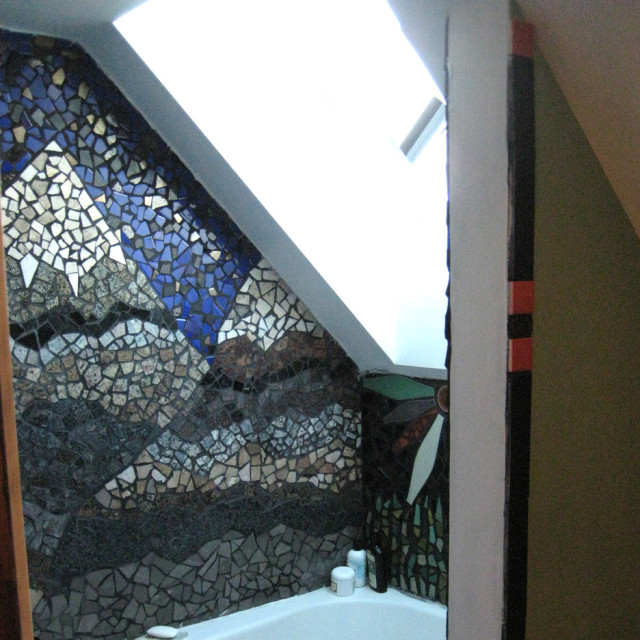 Two recent house tours, the Build It Green! Tour and the Architecture + Design Festival's Design Matters: A Tour of Exceptional Portland Homes, gave us a chance to take an intimate look into some special private residences around Portland. They've also been a reminder that a couple of consecutive Saturdays spent peering into other people's proud remodels, additions and renovations can get the mind racing with ideas – and the heart green not so much with sustainability as with envy.
Beautiful bathrooms were a major cause of this less than admirable emotion, in my case – two very different bathrooms. One was a 1948 Pietro Belluschi house recently refurbished and renovated, the other an 800 square foot accessory dwelling unit (ADU) just completed earlier this fall. Both were reminders of the benefits that good design can bring not just to our daily routines, but also to the market value of our homes. Not that either of these places are for sale, but bathroom additions and remodels are always a good return on investment, usually in the 80-90% range.
There are many ways to beautify the humble bathroom, as Anthony Belluschi's house and the Peterson ADU make clear. The Belluschi master bathroom is high design architectural elegance, the Peterson's bath more handcrafted and homespun. The Belluschi house was part of the Architecture + Design Festival tour, designed by the eminent Portland architect Pietro Belluschi (Anthony's father), and would not be easily replicated, to say the least. (The glass panels in the sunken tub are similar to those used in the elegant lobby of Pietro Belluschi's much-admired, landmark Equitable Building – now called the Commonwealth Building – in downtown Portland.)
The Peterson home's bathroom tub is more attainable. Much of the tile used for the lovely mosaic walls were scraps salvaged by Deb, one of the owners, from Pratt and Larson, the ReBuilding Center and other local sources. She designed the mosaic pattern depicting night and day, clouds, crescent moon and snow-topped mountains, and did the tiling herself. Topped off by a slanted, skylighted ceiling, the tub creates a lovely spot for respite and renewal.
Meanwhile, in the new and not salvaged category, it's worth taking a look at the bathroom fixtures, surfaces and furnishings from Waterworks Studio. It's a new line from Waterworks, a high-end manufacturer, available locally at Chown Hardware. The fixtures are beautifully designed and crafted, classy and definitely lust-worthy. My mind is spinning…I'm dreaming of a relaxing bath…