Desirables
Marimekko, Forever in Fashion
Classics come in various shapes, sizes and colors, and they never go out of fashion. Marimekko is a prime example.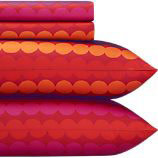 Fashion is fickle and ever-changing. That's pretty much its nature. Fashion doesn't stay in one place – it can't. But classics – somehow classics are always in fashion. Not at the height of fashion, but respectably, honorably there. Classics are closely related to style, which has a longer lifespan than fast-moving fashion does.
These three categories – fashion, style and classics – apply to all art forms, visual, musical, even cuisine. And they apply at different scales, for instance from apparel to interior design to architecture to urban design. Some of these objects of design manage to fulfill all three categories at the same time. These are the really good classics, and the greatest example is in music, with the Beatles. Think about it: what home hasn't been enhanced by the Beatles? Every generation discovers the Beatles, and they transcend being Mom and Dad's music. They are always fresh. And you can keep listening to them as you grow old without feeling like you're trying to turn back time.
Marimekko is the equivalent in the home/apparel/graphic design category. They are a
Finnish design company founded in 1951, but they've survived and are thriving, recently opening a flagship retail store this past weekend in New York City. They've also partnered this year with Converse (owned of course by Nike), believe it or not, to put some of their most famous patterns on the Chuck Taylor All-Star. Chucks in the Unikko poppy print? Super-fashion and uber-classic all in one.
Marimekko is most closely associated with the bold, perky super-graphics and colorful patterns of mid-20th century modern Scandinavian design, but they somehow don't scream out their year of birth in the same way much of the furniture or housewares of that era do. The patterns work in children's rooms, dorm rooms, and dining rooms. The designs aren't always patterned: the classic architect's bag is a plain black Marimekko shoulder satchel, capable of lugging anything and not showing ink and charcoal stains. Jackie Kennedy opened American eyes to the brand, owning nine Marimekko dresses that she wore while campaigning for her husband in the 1960 Presidential race; she even appeared on the cover of Sports Illustrated magazine wearing one of them, a red number.
Crate and Barrel started producing and selling Marimekko graphics on housewares and textiles in their stores back in 1966. Recently they've opened special Marimekko shops within some of their stores; San Francisco is the closest one to us, but we can hope that the Bridgeport Village store Portland gets the nod in the next year or two. Meanwhile, Crate and Barrel's online Marimekko shop offers the same items that the retail stores do: cups to towels, comforters to tote bags. Everything you need for your happy home life.
Marimekko textiles, shower curtains, bags and other items can also be found in Portland at Relish – and when you're lucky, at vintage and thrift stores. Invest in Marimekko, knowing you'll never be out of fashion.