plant of the week
Naked Boys
Colchicum species light up the fall garden with sparkly purple or white flowers that look dazzling against autumn leaves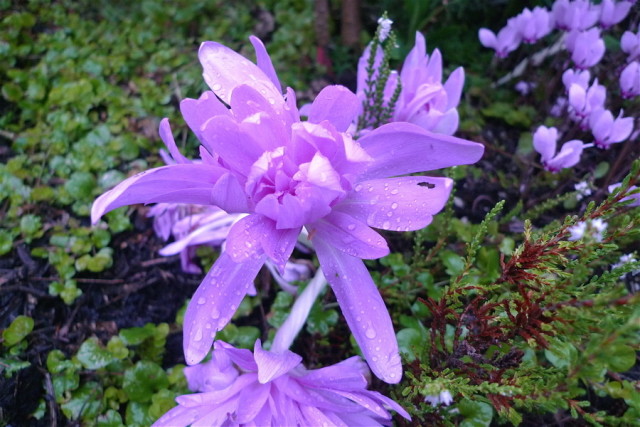 Better known as "autumn crocus," Colchicum flowers appear on leafless stems in autumn, usually starting around late August or early September. They are known in some parts of England as naked boys, which sounds naughty in a nice English way, doesn't it?
So what's the reason for this epithet? Colchicum are dubbed "naked boys" because their blooms appear on "naked" (leafless) stems. Once the flowers are finished in late autumn, the leaves emerge and then just sit there as tiny green nubbins through the winter. By mid-spring, the little leaf nubbins rise up into giant green, coarse, dark green leaves nearly a foot tall that sit there photosynthesizing like mad for a month or two, until they flop over and squash everything around them. Then they turn brown and shrivel up. While this may not sound so attractive, the autumn show is so worth it! Just remember to position any delicate little plants about a foot away from the Colchicum bulbs. Or plant your Colchicum amidst a tough ground cover like Ajuga, Acaena, mosses or in a place where there is nothing else growing. The flowers are truly sparkling in the slanted rays of autumn, with the leaves dropping off the trees all around them. And they look striking emerging from bare, brown earth.
Interestingly, Colchicum disappear completely in summer between about mid-June and some time in August, when the flowers reappear. And you can barely see them over the winter, when their leaves are just sitting, barely emerged and waiting to shoot up in spring.
Colchicum bulbs are usually for sale in late summer, while still dormant. They often start to flower while still in the boxes but at some point, they are often potted up and can be purchased that way too.
If deer or rodents are an issue in your garden, you'll be glad to know that Colchicum are pest-proof plants. In fact, they are quite poisonous (like hellebores, Aconitum, peonies, and many other common garden plants) and deer don't touch them.
Although their bulbs are often very deeply buried in the wild,Colchicum are best planted with the tops of the bulbs just below the ground level in the garden. They prefer rich, moist, reasonably well-drained soil and are very well adapted to our winter-wet, summer-dry climate. They don't need supplemental summer water, since they are naturally dormant during our dry summer season. I have several clumps in my parking strip, planted under a tree, and they always offer a pleasant surprise then they emerge, as I seem to forget they're there every summer.
The commonly-seen species Colchicum speciosum and Colchicum autumnale are both lovely, with lavender purple flowers and a delicate little goblet-like flower. But there are some especially lovely cultivated forms available:
1. Colchicum 'Waterlily' – a double-flowered lilac purple variety reaching 4-6 inches tall. It's quite vigorous and will increase in size year after year when happy.
2. Colchicum speciosum 'Album' – huge, white, goblet-shaped flowers rise about 6 inches above the ground.
3. Colchicum autumnale 'Alboplenum' – this expensive treasure combines the white color with a double form. It is simply spectacular!
4. Colchicum 'Giant' – huge, pinkish-lavender flowers with a white throat
Sources: