plant sale
Bovees Nursery
one of Portland's great horticultural treasures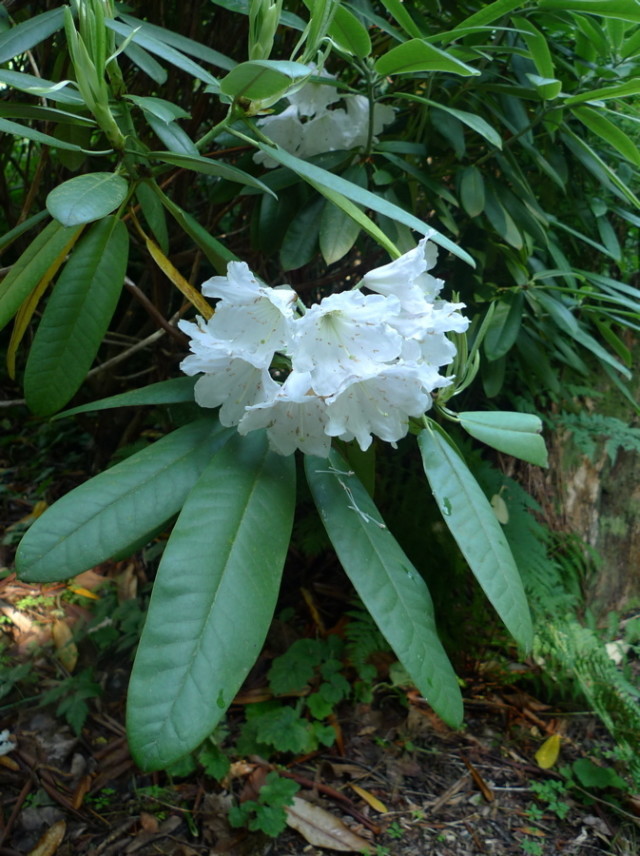 It's a great time to shop for plants – seems like nearly every plant nursery in the area's having a fantastic sale.
Included in the roster is the venerable yet barely-known Bovees Nursery. This is definitely an "Old Portland" nursery, run by a trio of avid plant collectors who bought the property from the original owners (not coincidentally, the Bovees) who founded it in the 1950s.
The Bovees Nursery specializes in rare and unusual plants (see plant list here.) Some of the best plants in my garden have come from the Bovees over the 20 years I've been visiting, and the mostly shady display gardens are a joy to wander through. If you have a shady area in your own garden, you owe it to yourself to make a pilgrimage, for inspiration and planting ideas. Autumn is a peaceful time to visit, with the foliage turning on some of the deciduous azaleas and understory plants.
The current owners are slowing down due to age, but definitely not quitting, they say. However, they are paring down their plant list to focus on the exotic tropical Vireya rhododendrons they so love. So get over there soon to buy some of those rare non-Vireya plants before they are all gone!
It's quite magical to wander through the Vireya greenhouses and see and admire these candy-colored, tropical rhododendron species flowering in little pots. But if indoor or greenhouse tropicals aren't your thing, worry not: the nursery has a bounty of treasures for the outdoor landscape, such as more uncommon rhododendron, camellia, lilac and conifer species, shrubs like unusual Vaccinium and Zenobia, rare trees like Lindera obtusiloba, and herbaceous plants that can be hard to find elsewhere including several species of Soldanella (adorable little purple fringed alpiney-woodlandy plants) and the funny little Chirita (a Gloxinia relative).
BOVEES NURSERY FALL SALE
The sale runs from Halloween to Christmas, 2011.
Almost everything on sale at 30% off, except perennials and species Vireya rhododendrons. Included in the sale are dwarf shrubs, shrubs, ferns, trees, conifers, rhododendrons, azaleas and Vireya hybrid rhododendrons. (Mail order customers: only certain items are for sale.)
The nursery is open 9 am to 5 pm daily except for Sundays, when it's after 12 noon.
The Bovees Nursery
1737 SW Coronado, Portland, Or 97219
1-866-652-3219
Directions:
The nursery is located between SW Lancaster and Arnold Roads., off of SW 16th Drive, just north of Lake Oswego off of Boones Ferry. For more detailed directions, call 503-244-9341
From I-5 South:
Take Terwilliger exit #297 and cross over the freeway bridge eastbound. Continue through the Burlingame district and take the RIGHT FORK (onto Boones Ferry) in the road when it branches at a stop light. At the bottom of the hill turn RIGHT onto Arnold and go up to 16th. Turn left and go two blocks.
From I-5 North: Take lake Oswego/Durham Exit and follow Boones Ferry north through Lakegrove and continue on Boones Ferry to Stephenson St. and turn left. Watch for our signs and turn right on Lancaster and then right on 16th.