plant sale
End-of-Season Bulb Sales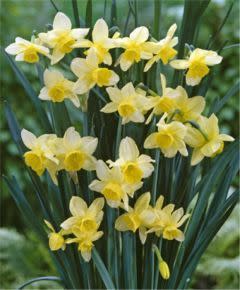 The bulb-planting season's closing down and bulbs can be bought for a song through various mail order catalogs.
And while it's best to get your bulbs planted early, in October or early November, there's still time to do it. If you plant in December, you'll probably find the bulbs bloom a little later in spring. And sometimes they can start rotting if you leave them sitting around too long without planting. Just check each bulb to make sure it's firm and heavy and get them planted as soon as possible!
Here are two of my favorite sources for bulbs – visit the website soon to get discounts on the best selection of remaining seasonal daffodils, tulips, crocus, snowdrops, alliums and more:
Van Engelen is holding their 25% off, end-of-season sale. Minimum order is $50 but you can get a lot of bulbs for that price! Sale includes many beautiful lilies, Brodiea, Calochortus, and of course, tulips, narcissus, crocus, alliums and more.
Brent and Becky's Bulbs has 10% off these web specials this week… I saw some great lilies on the sale list.
And of course, there are plenty of local sales on bulbs, as retailers need to start making space for holiday items on their shelves. But shop early for the best selection.