plant of the week
Japanese Clethra
Clethra barbinervis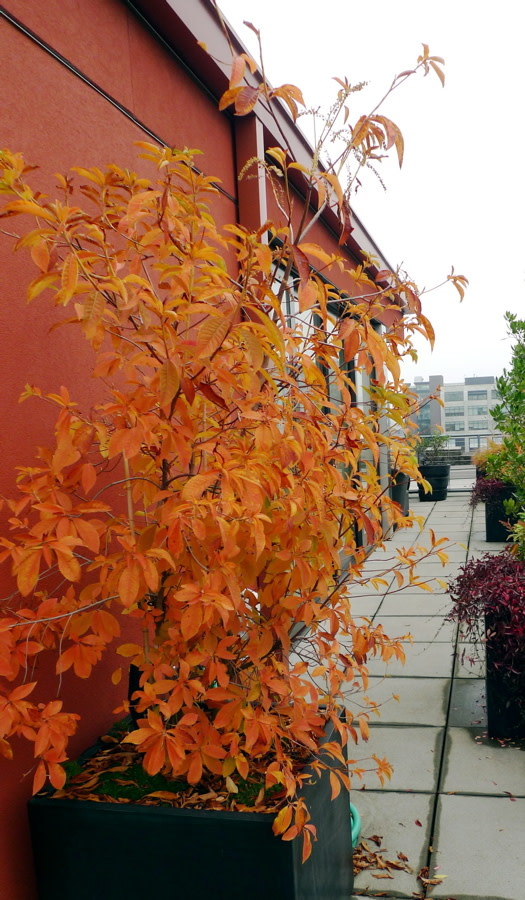 I am totally smitten with the fall color of Clethra barbinervis this autumn. But since hardly anyone grows it, I don't get to see it very often, outside my own garden and a few clients in whose gardens I've planted it over the years.
Clethra barbinervis – also known as Japanese clethra – is a large shrub or small tree reaching about 12-20 feet tall, with a fairly upright form. The leaves are a soft chartreuse green in spring that looks incredible paired with rusty orange and terra cotta. In early summer, it produces hefty, cream-colored spires of spicily-scented flowers that remind me of gooseneck loosestrife. Come fall, the foliage shifts from springy green to a luminous yellow, apricot, orange and coral before dropping. And the tree even has great winter interest, with peeling, cinnamon-colored bark and a a structure of branches that droops most attractively, a bit like dogwood branches.
Clethra barbinervis prefers rich, well-drained soil and shade from the hot afternoon sun. It is definitely not a drought-tolerant tree, so it's best in a light woodland environment, or on the east side of a house. You'll know if you've placed it in too hot or dry a spot, because the margins of the leaves will crinkle up in protest in July and August. Take that as a sign to move it to a cooler, damper spot in the garden.
But find the right spot for it and your autumns will light up with the most delicious glow of foliar sunshine!
Sources:
Check Plant Lust
It can sometimes be found at local retail nurseries including Portland Nursery and Dennis' Seven Dees