Desirables
Searching for Vintage
Can you manufacture authenticity, or does it only come with age?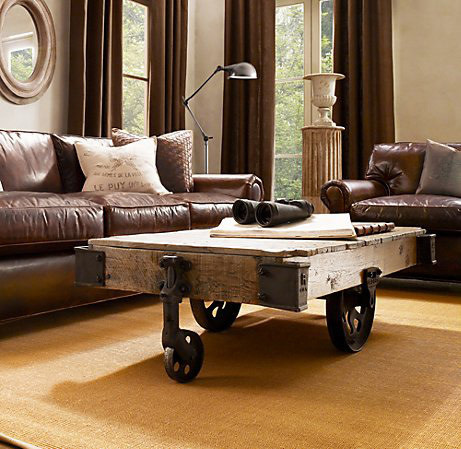 It's enough to make the head spin. Just wander through the mass-market home decor stores these days: you see fall accessories and furniture lines that look old but are new. Next to the new goods that look new are old goods that look not quite new, but just the right amount of old. Maybe Donald Rumsfeld can explain this world – he of the famously known knowns, known unknowns, unknown unknowns. Or perhaps one of the French deconstructionist philosophers like Baudrillard could help sort it out. The levels of reality boggle.
What does it add up to? Does it even add up? Target has a new line called "Vintage Charm," which includes wine bottles (empty, since they are being sold as vases – not so charming, if you ask me) glued with French or Italian language labels that look romantically tattered and burnished. Vintage charm also extends to stools and lampshades covered with burlap bearing French surnames and words like "grains."
Williams-Sonoma Home is selling foreign flea market finds (think silver from Portobello Road and work tables from Clignancourt) as its "Found Collection," with each price tag stating the item's particular provenance. Not to be outdone, Restoration Hardware evidently came upon a well-traveled early 20th century steamer trunk and has cloned it into its Richards' Trunk Coffee Table collection, priced from $1995-$2495. They proclaim, "each piece is constructed in precisely the same manner as the original and aged to look as if it's seen epic journeys of its own."
At a lower price point (and smaller retail scale) are the wares being sold at Portland's own Hand-Eye Supply in Chinatown: crisp new old-style stuff like navy blue machinist's aprons and shopcoats, stiff canvas and leather tool bags, and pre-digital architectural drafting supplies like triangles, lead holders and erasing shields. (Unless you went to architecture school sometime in the last century, you probably won't even know what the latter items are.)
Hand-Eye's purchases require you to create your own marks of loving (or cursing, if it's a work apron?) wear and tear. But the designs and materials are tried and true, certifiably authentic. For instance, the aprons and shopcoats (coveralls and boilersuits too) are from Ben Davis, a California family company making *sturdy work apparel since 1935 from "patterns drawn in the 1930s."
Hand-Eye Supply offers the workwear with what appears to be earnest irony and appreciation – a sort of post-post-modern digital age love note to innovation and classic craftsmanship from any era. The Restoration trunks speak (perhaps less earnestly, and not in their native tongue, since they are copies) of the bygone luxury of romantic, slow, steamship travel.
Restoration's Furniture Factory Cart is a bit more complicated: the line is of one-of-a-kind, early 1900s industrial cast iron and hardwood carts "once used to transport furniture, fabric and supplies across the factory floor." Presumably the appeal is that they look really cool (which they do, especially surrounded by posh comfy living room furniture, not a busy factory). Perhaps, in this time of "Occupy Portland," et.al., they remind the new owner of how lucky he or she is not to be working in an early 20th century furniture factory pushing heavy carts around?
Whatever story these vintage pieces tell, their "oldness" makes clear that they are deliberately telling a story, that they have a history, whether it is authentically "real" or not. Even a newly manufactured "vintage" item tells a story, wishful as it may be. The originality and authenticity of the object is simply part of that story. And the story, after all, hasn't ended; it continues with the new owner.
Hand-Eye Supply
23 NW 4th Ave
?Portland, OR, 97209?
503.575.9769