Desirables
Shoots Bamboo and Makes Things Too
A bamboo jungle thrives, just down the street from Paul Bunyan.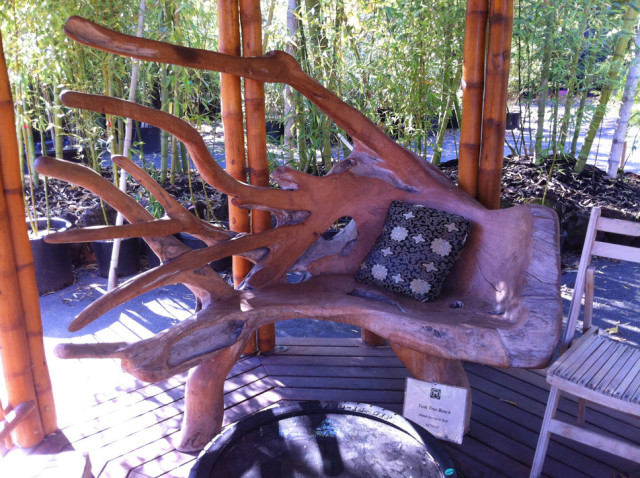 Bamboozled takes on a new and quite positive meaning when it applies to the Bamboo Craftsman. Bamboo Craftsman is a hybrid company (design/build/import) and retail store, located in the Kenton neighborhood of North Portland (just steps away from the big Paul Bunyan statue). It's also an evolving concept embodied by a certain obsessed young man, Troy Susan.
He's an art school grad (PNCA) masquerading as a general contractor for the past couple of decades. In the late 1990s, he got the bamboo bug, and has been building his bamboo empire ever since. It's been slow going, but it's not hard to envision that at some point, the bamboo biz will grow as quickly as the plant itself notably does.
When bamboo is harvested, it will replenish itself in about three years, compared to the 40 years or more it takes for a timber forest to do the same. This makes bamboo an obvious winner when it comes to sustainability.
And in terms of versatility, it's not too shabby either. As a garden plant, bamboo can be a beautiful landscape accent or planted in multiples to create a living, green architectural screen. As a harvested timber, it's structural potential is vast, with different bamboo types ranging from solid dowel-like poles to long hollow timbers up to 6" in diameter and 10-12 feet long.
Of course, bamboo is a grass, not a tree. But it's a special grass. Unlike the grasses in my backyard, it's quite useful and grows in what seems to be endless varieties, none of them weeds. Beware, though: bamboo is weed-like in its vigorousness, to use the gardener's euphemistic word for "taking over your whole yard." It's a must to enclose it in planters or deep protective trenches sunk into the ground.
Bamboo Craftsman has all that you'd need for planting live bamboo. The retail store sells scores of different bamboo types as live plants. Or you can buy your own timbers and poles to construct whatever your creative heart desires – fences, benches, gazebos, garden hide-outs… The Bamboo Craftsman crew can also custom design and build something for you, small or large.
Their recent projects include the calm, zen surroundings of the soaking pool in the newly opened McMenamin's Crystal Hotel (check it out after your next raucous rock show – or just after a hard day at the office). They're also the folks our friends at the Alibi Room turn to when they need to do a little spiffing up of their famous old school authentic tiki room on Interstate Avenue.
Bamboo Craftsman also stocks fences (rolled, rigid, and lattice), furniture, and flooring. And I would be remiss if I didn't mention the decidedly non-bamboo recycled rubber moped tire chair. Strange as it sounds, it's quite comfortable (the rubber gives it a bit of a spring), well-proportioned and elegant in its design. Imported from Indonesia, it's on special now for $149… would be the perfect spot to sit and sip a gin and tonic in the backyard bamboo garden, leaves swishing in the breeze. Oooops, I forgot: I'm in Portland. It's November. But next year…