plant sale
Viola Frenzy!
violas and pansies on sale at Cornell Farm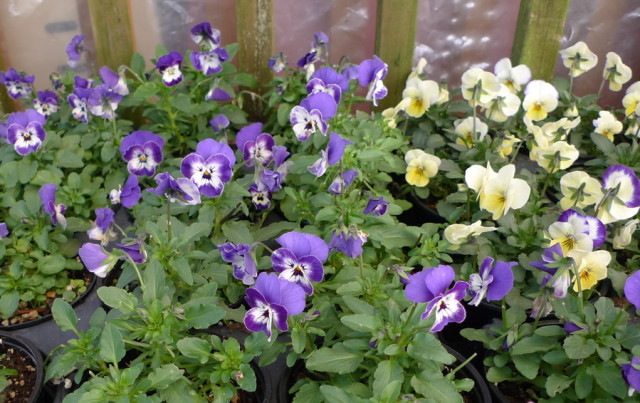 I've planted many thousands of brightly colored violas for clients over the years. They are so cheerful in the winter and come in bazillions of colors. But I personally never cared much for them (I'm kind of an edibles and tree and shrub gal) until about two years ago, when I had some leftovers from a big planting project. It was too late to return them and I just thought, "what the heck, I'll just plant 'em!"
What I discovered is that I love violas! They flowered all winter, through ice and snow, and are so much tougher than their more floppy friends, the pansies. Violas also have the sweetest, most penetrating fragrance that I now start to crave around October and by November, I've filled pots with them on my steps so that I can smell that lovely scent whenever I come home.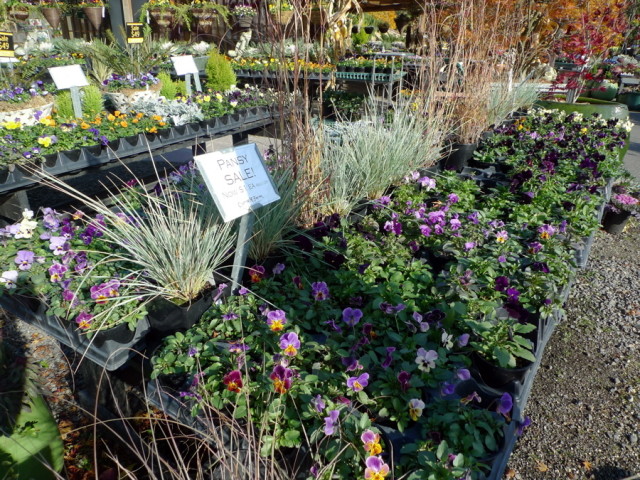 Right now, Cornell Farm is running their fall viola and pansy sale. All violas and pansies are just a dollar apiece. Not even Fred Meyers usually can match that, and these are all seed-grown by Cornell Farm on site. They sell more varieties – and more unusual varieties – than any nursery I've seen. And you cannot beat those prices. Head on over – and while you're at it, check out their deciduous shrubs, berries and fruit trees, all of which are on sale for 40% off for the time being.
I also saw some great prices on one of my favorite winter hummingbird attractor plants, the Asian Mahonia, Mahonia x media 'Arthur Menzies' – $14 for big, perfect, heavily-budded plants in one-gallon pots that will burst into flower in about two weeks.
Cornell Farm Nursery
8212 SW Barnes Rd, Portland, OR 97225
503-292-9895
Hours: 9 to 6 daily