Out and About
Visiting the Mayor's House, Circa 1912
The Architectural Heritage Center opens the doors on Portland of a century ago, when the Mayor had just moved into a grand new home built by A.E. Doyle.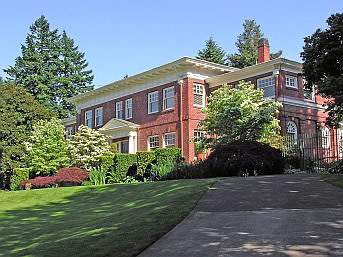 The mayor has invited you to his home. No, it's not Sam Adams' place in NoPo. (Although, what do I know? I bet you get invited to a lot of places I don't.) It's H. Russell Albee, Portland's progressive, parks-minded mayor of 100 years ago, who lived not in a humble home in Kenton but in the newly-developed Laurelhurst neighborhood, in a not-so-small house (mansion comes to mind) designed by the city's most illustrious architect of the day, A.E. Doyle.
While Mayor Albee won't be there to greet you, and the architect will have to let the building speak for him, the Architectural Heritage Center has arranged for the private home to be open to the public for self-guided tours the afternoon of Sunday December 11, 2011. They'll also have on hand a couple of historians who are good stand-ins for the historical figures themselves.
Philip Niles, author of Beauty of the City: A.E. Doyle, Portland's Architect, will give a short presentation on Doyle, and Janice Dilg, project director for Century of Action: Oregon Women Vote, 1912–2012, will discuss Albee and his role in shaping the Portland of the 1910s and beyond.
Considering he died 83 years ago, Doyle's name comes up frequently in any discussion of Portland architecture. His buildings have an ongoing influence on the look and feel of our city, helping create its solid, consistent fabric as well as some of its jewels, like the Central Library, Meier & Frank building, and Benson Hotel. Following Doyle's example, even "stand-out" buildings fit into the holistic city fabric.
Doyle's office trained the next generation of Portland architects (Pietro Belluschi, John Yeon, et. al.) and set the tone for the city's approach to design. Even now, this place seems to lean toward local architects, not out-of-towners who come in and play around. Though the example of Michael Graves and his 1982 Portland Building is complicated, it still has given a bad taste to the concept of big names experimenting in Puddletown. That plus the city's not-so-humble pride in its planning and zoning advances of the '70s and '80s result in an interesting tension between innovation and responsibility, creativity and cooperation.
The realm of residential architecture offers perhaps more freedom than does institutional or commercial, but Doyle was ever the traditionalist and craftsman. The Albee house is a classical, Georgian style mansion, well maintained with many original details, including fine woodwork, and stained glass by the Povey Brothers. To spend an afternoon inside the house December 11 is a holiday treat to look forward to. Get your tickets (503. 915. 9550) now.
Afternoon at the H. Russell Albee House, A.E. Doyle Masterpiece:
Sunday, December 11, 2011, 2:00PM–4:30PM
Tickets 503. 915. 9550: $5 AHC Members/$10 General Public
Light refreshments will be served.