Desirables
Clean Home, Green Home
The gift of earth-friendly cleanliness, brought to you by bicycle.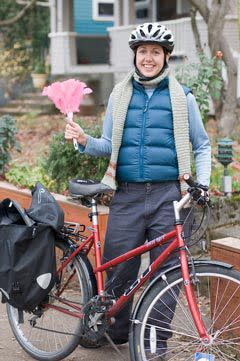 It's not exactly exciting, but house cleaning is a key ingredient to having a gracious, healthy and beautiful home. Luckily, we've come a long way from the era when the average adult woman would be expected to stay home all day achieving that state of clean. Today, there are many alternatives.
One modern option is the couple (with or without kids) who try to divvy up the household work fairly, and end up accepting some chaos and dust as part of the reality of life. Some buckle down and hire someone to clean for them regularly. Some are lucky enough to have Felix Unger-like roommates (remember The Odd Couple?) who can't help but clean.
But for those of us who have neither the clean-gene nor a cleaning person on staff, and who want to reduce the clutter and dust at least occasionally, a Christmas gift of a helping hand wielding a scrub-brush is much appreciated – for ourselves and our comrades.
The scrub-brush will be green, and arrives via bicycle, if you get in touch with Green Clean. Their bike-to-you housecleaning service may seem like a novelty, but they come recommended, and are clearly committed to keeping the planet clean in as many ways as possible.
Christina Redl has been green cleaning via bike for two years now. She offers gift certificates, and you can submit a "cleaning request form" online. She and the other members of her "earth friendly house cleaning" team work by the hour, supply their own natural kid-and-pet-safe cleaning products, and just require that you provide the vacuum, broom and mop. Their hourly rate is $35 (plus another $5/hr for after 7 pm or weekends).
The promise of a visit from the bicycling Green Clean-ers might be the best thing that jolly man in the red suit can bring this year.