giveaway
Terrarium Craft One of NYT's "Notable 100 Books of 2011" Giveaway
…so we're having a book giveaway. Celebrate with us!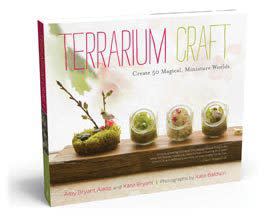 Update: contest now closed – winner has been picked! Thanks to all who entered and commented.
We were thrilled to learn last week that our book Terrarium Craft: Create 50 Magical, Miniature Worlds was one of the New York Times Sunday Book Review's 100 Notable Books of 2011.
Four other Timber Press gardening books were also listed in the gardening section… each of which I am eager to dig into during the coming long, cold nights of winter.
Terrarium Craft is a collaboration between three women with almost comically overlapping names: Amy Aiello-Bryant, who designed and created all the terrariums in the book; Kate Baldwin, who photographed them; and yours truly, the writer for the book.
Amidst occasional confusion over which Kate was being referred to, and whether Amy and I are sisters (we are not, biologically, although we have been known to pretend we are!), our book was a deliciously creative collaboration that we're all just tickled pink to have made together. To have the book now appear in Dominique Browning's New York Times Book Review feature as one of the year's notable books has given us a happy boost. We hope our book will soon be in the hands of more people across the country who will find in its pages the inspiration to make beautiful, evocative and fun terrarium creations for themselves.
With that said, let the giveaway begin! To enter the giveaway, just let me know what kind of experience you have with making terrariums, whether recent or historical, good or bad, for yourself or as a gift for another. Contribute your comment by 5 pm, Monday December 12, 2011 to enter. The randomly-selected winner will receive a copy of Terrarium Craft.
Needless to say, no purchase is necessary. One winner will be chosen at random. Open to residents of the US, 18 years or older, as of 12/12/2011. Entries must be received by 5 pm Pacific Time on 12/12/2011. Void where prohibited.