Appreciation
Designer Eva Zeisel, RIP
Her "playful search for beauty" continued for more than a century in Europe, Russia and the US.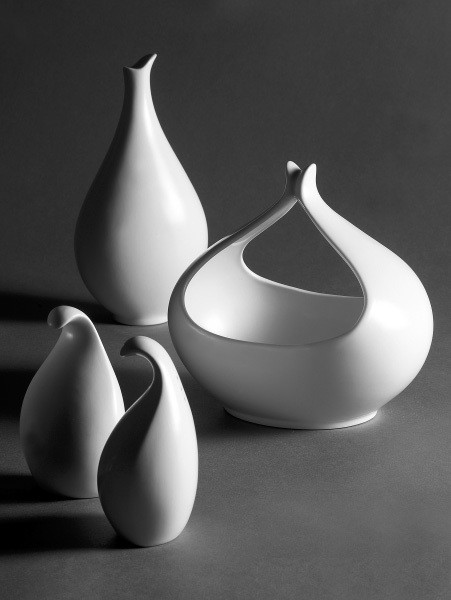 Designer Eva Zeisel died peacefully December 30, 2011, in her home in New York City. It's a safe bet she died of old age: she was 105. One of the foremost ceramic artists of the mid-20th century, she led a remarkable life. A self-described "maker of things," her love of design and adventurous spirit led her around the world on a path literally through political and design history, including 16 months in prison in Stalinist Russia at age 30.
She is known as one of the ceramicists who brought elegant yet expressive modern design onto middle class tabletops across America – in the same league as Russel and Mary Wright. Her "Tomorrow's Classic" line from the late 1940s was reintroduced in 2005 by Crate and Barrel, and is still going strong. She has pieces (pottery and rugs, furniture and glassware) in museum collections around the world.
It is a treat to watch the video of her speaking at a TED conference in 2001. She is charming and down to earth*, starting her talk by noting that people seem always to describe her as "still" working at age (then) 94. Why use this word "still," she asks. She's just "working" as she always has.
It's because her work has always been a "playful search for beauty," she says, that she's wanted to "make things with pleasure as a gift to others for so long." She separates herself from industrial designers; they were concerned with making "novel things" in a "concept of commerce," not aesthetics. By contrast, she wanted to "make things more beautiful, more elegant, more comfortable…" And yet throughout her career she was professionally successful and practical, as industrious as any designer.
Eva Striker was born in 1906 in Budapest, into a well-to-do, intellectual Jewish family; at 17 she was studying painting at the art academy. The next year brought a summer trip to Paris, where she saw the Exposition Internationale des Arts Decoratifs et Industriels Modernes – better known as the influential 1925 design expo that spawned Art Deco (the style and the term) and at which a young Le Corbusier exhibited one of his first modern interiors.
The 1925 Paris trip inspired Eva to turn her artistic talents from painting to functional design. She set off to become a master potter in the Hungarian Potters Guild (which included chimney sweepers, oven makers, roof tilers and well diggers). She recalls those days in the TED talk. The guild system was a strict hierarchy, and she advanced from apprentice to journeyman. Being "incredibly curious to see the world," she was literally ready for a journey, so she looked for a journeyman job by putting an ad in the newspaper, and accepted the offer "that was furthest from home."
That job was in Hamburg, Germany. It was 1928. On her first day at the pottery studio, her (all male) co-workers had left clay formed into what looked like "men's organs" on her wheel, to greet her. She brushed the offerings aside and was accepted into the group.
Her career took her next to Schramberg, Germany, and then the lively city of Weimar era Berlin in 1930. A visit to the Ukraine inspired her to move to the Soviet Union, with her then boyfriend (later husband). By 1935 she was in Moscow, the artistic director of Stalinist Russia's china and glass industry. And then, in 1936, at age 30, she was in prison. She'd been falsely accused (by a colleague) of plotting to assassinate Stalin. Most of her 16 months of incarceration were spent in solitary confinement; then suddenly she was released.
Vienna was next – but Hitler and the war interfered. Her marriage had already broken up, and she fled to London. There she reconnected with an old Berlin friend, Hans Zeisel; they married and emigrated to New York. Again she quickly found work, designing for a china company, teaching ceramics at the Pratt Institute, and founding its Ceramic Arts Industrial Design department.
The accomplishments kept flowing, but now she stayed put, living on the Upper West Side in NYC. In 1942 the Museum of Modern Art in New York commissioned her to design a line of all white china for the contemporary American home; Castleton produced the Museum line and MOMA exhibited it in 1947 (the war had delayed production), in what was its first one-person (let alone one-woman) show of utilitarian art.
She also had two children, and has described some of her iconic designs (her Town & Country salt and pepper shakers, designed for Red Wing, in particular) as being a "portrait" of her daughter and herself. Much of her work features tableware pieces that complement, echo and nestle with each other. She has said that while designing, "I think with my hands. I design things to be touched—not for a museum. A piece is ready when it has the shape of something to cherish."
The work – and legacy – she leaves us with is indeed something to cherish.
For more links and info on Eva Zeisel, check out the online Eva Zeisel Forum. Her work is mostly out of production, but Crate and Barrel (and Royal Stafford in the UK) offer the Classic Century tableware lines. Unica has some of her Eden glassware available (from her 2005 Nambe collection). Nambe (in Bridgeport Village) also has the Peek-a-Boo Rose Bowl- for $95.