Desirables
Home At the Top of the 1%
The livin' is large at the "World's Largest Home," four acres of floor space on a 125,000 acre site.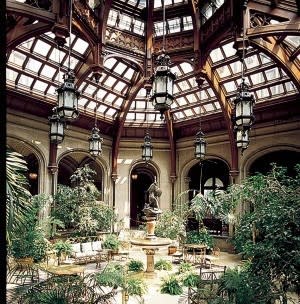 George Washington Vanderbilt never worried about downsizing. He hired famous architect Richard Morris Hunt to design a home for him in the western North Carolina mountains, near Asheville. What resulted was Biltmore – a rather large house, with four acres of floor space, 250 rooms, 43 bathrooms and 65 fireplaces.
Vanderbilt, who was the grandson of the shipping and railroad magnate Cornelius, who made the family fortune, called Biltmore home from 1895 until his death in 1914. Of course he had other homes (a townhouse in Washington, DC; an apartment in Paris; a summer place in Maine), but Biltmore was his favorite, especially at Christmas. It was his dream home: a self-sustaining estate with extensive gardens (designed by Frederick Law Olsmsted), a farm, a creamery, stables, hunting, a gymnasium and indoor swimming pool…
When he inherited his father's fortune at age 23, Vanderbilt bought the land in the Carolina mountains, where he'd been coming with his family for health-oriented retreats since he was a child. He hired famous Hunt to design his dream, and they started by venturing through Europe on an architectural tour for inspirations.
The 16th century chateaux of France seemed to captivate Vanderbilt the most. Chenonceau, Chambord and Chateau de Blois serve as the closest models for the new home he employed 1000 men to build for him over six years. He left the estate to his heirs (he had one daughter, Cornelia) when he died unexpectedly of complications from an appendectomy.
Only 15 years later, those heirs opened up the house to the public in an effort to keep it running. They needed a source of income to operate such a large establishment, and so preserving it became a private yet public affair in 1930.
Today the house is billed as "America's Largest Home." Probably the closest equivalent in Portland would be the Pittock Mansion, completed in 1914. Both are elegant, and share a spiraling grand stone staircase, but otherwise, Portland's big house is puny by comparison with the Vanderbilt estate. Same with the admission costs for these public houses: a pass to tour through the Pittock Mansion will set you back $9, while a day tour to Biltmore costs $69 – and you don't even get to stay overnight!
It is a spectacular (to put it mildly) expression of the best that history had to offer and that money could buy at the time, beautifully preserved and very popular. Biltmore will be a round a while.