Desirables
Schoolhouse Rocks
Schoolhouse Electric & Supply Co.'s new Northwest digs offers more than light.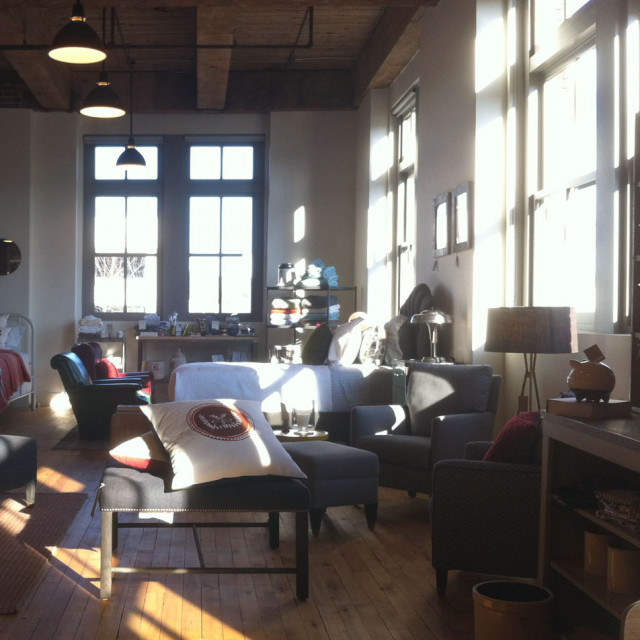 Schoolhouse Electric & Supply Co., age not yet ten, has graduated: from its old, bright yellow storefront in the Central Eastside to big new digs in the Northwest Industrial district. And like many a graduation, it's cause for celebration more than sadness at growing up and getting big.
The new showroom is actually old: a bright, beautiful red brick factory built in 1910 as a storage facility for a San Francisco hardware company. Now it's the perfect one room (one really big room) schoolhouse headquarters for the little lighting company that could.
The Portland company founded in 2003 by Brian Faherty has recently expanded its offerings from classic blown glass lighting fixtures to all the basics you'd need for home and office. The new home shows off the expanded line of products perfectly. It's lofty and light, interiors painted white, giant sash windows looking out over railroad tracks and a silver bright utility station. The whole scene feels suitably plain, industrial and utilitarian – and yet, when you walk in, you immediately want to live there.
Schoolhouse has the Portland zeitgeist down pat. Part of the charm of the place is the welcoming quality of the wares being displayed – simple and comfy chairs, sofas, tables, desks, blankets and beds, lamps and linens, candlestick holders and coat racks. All of it is beautiful in that wholesome, traditional yet timeless way that Schoolhouse has perfected.
Neighbors in the refurbished warehouse are Ristretto Roasters, Alma Mara Floral Design, and Egg Press (which has moved its production studio to upstairs space in the solid four-story brick building). Egg Press is also collaborating, as is Eastside fashion maven Adam Arnold, on sprightly upholstery for Schoolhouse sofas and chairs.
Schoolhouse Electric & Supply Co.
NW Portland Flagship Retail Showroom
Mon-Sat: 10 AM – 6 PM
Sun: 11 AM – 4 PM
2181 NW Nicolai Street, Portland, OR 97210
P: 503-230-7113