Desirables
Smart Beds, Small Spaces
Murphy beds come out of the closet.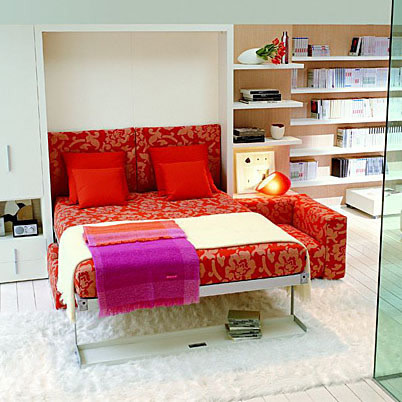 Small spaces and big beds. How can the two get along? Futons were the answer in the '80s, and still have their place. But Murphy beds are a 100-year old solution that has come and gone – and is ready to come again.
The nifty hide-in-the-wall beds have a solid place in movie history – think Technicolor Doris Day living the big city single girl life, running around with Rock Hudson. Or Charlie Chaplin haplessly, hilariously struggling (for six and a half minutes) with the Murphy bed in the 1916 black and white short, One A.M..
But now, with the popularity of small space living on the rise, Murphy beds need not be just some cinematic relic. It's time to resurrect the invention Mr. William Murphy came up with, out of personal necessity, in 1900. He was a single, 40-something inventor living in a one-room apartment in San Francisco, when he (according to the family story) fell in love with a young opera singer. Those days were even stricter than the days of Doris Day, and so to have his would-be lady friend over to his pad, it couldn't be a bedroom he'd be inviting her into. He was therefore highly motivated to invent a hiding bed no one would have to know about.
Murphy's inventive invisible bed did become known, though – it was a big hit when he started selling it in early 20th century San Francisco. All through the '20s, '30s and '40s, these beds were popular, even being touted as special features in apartment rental ads. But the post-war housing boom into newly sprawling suburbs lessened people's interest in saving space. The Murphy bed went into hiding.
The original Murphy Door Bed Co. Inc. still exists, though – now known as Murphy Bed Co. Inc. It's a third generation family company in Farmingdale, NY. Today, they're joined by more European manufacturers than American, and the Europeans are making some rather snazzy models (especially Italian lines).
Closer to home, though, we have Hiddenbed of Oregon (manufacturing in Mt. Angel) and Old Creek Wall Bed Factory (in Bend). And California Closets, the national company, has a local store and some sleek, simple wall beds. All of these manufacturers offer a range of clever and convenient hide-in-wall options, most in the $2,000 to $3,000 range. Some models feature tables, desks and shelves, for instance. They can pivot vertically into a wall cabinet and then pull down, for a sort of Austin Powers effect. They can mount to the wall or be part of a free standing cabinet/storage unit.
The way these multi-purpose setups work is pretty nifty: hinges keep the horizontal surfaces level, and the desk or shelf simply lowers as you pull the bed down from the wall; you don't have to clear away anything. For a home office, such a set up would be perfect: leave your computers plugged in, papers on the desk. Just pull down the bed and call it a day when you're done. Shortest commute ever; smallest carbon footprint.
You can check out Murphy beds from Creek Wall Beds Factory at their retail partner, Bedrooms West of Gresham
1160 NE Burnside Road ?
Gresham, OR 97030
?503-666-2376 or 1-800-201-6030
California Closets
1225 SE Grand Avenue
Portland, OR, 97214
Tuesday-Saturday
10:00 am – 4:00 pm
Monday by appointment
503.234.6383
And last but not least, there is a Zoom Room dealer in Oregon selling remote-controlled Murphy beds that literally bend themselves down from and back up into a wall cabinet.