what's new
New Interactive USDA Plant Hardiness Zone Maps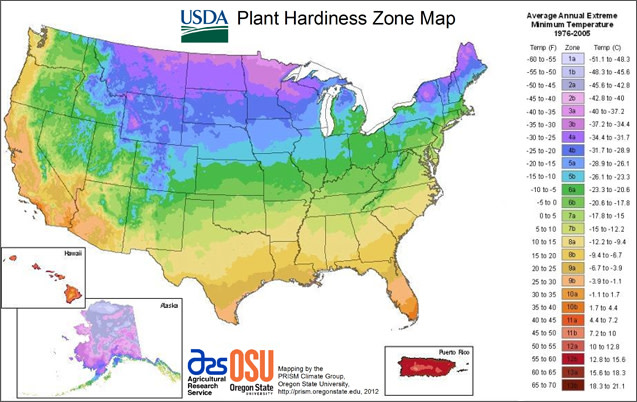 Nearly four years in the making, the new USDA Plant Hardiness Zone Map (now known as the PHZM) is finally ready.
This map was reformulated by experts – many from Oregon – in the fields of weather, geography, mapping and horticulture.
Horticultural experts have been complaining for years that the old USDA map (where, for instance, the entire Portland area, with all its topographical differences, mapped out in the same zone) was inaccurate. Not only was it outdated (didn't take recent climate change into account) but it also failed to account for the many variations within each state and region of the country. It also was not searchable.
The new map is based on detailed GIS mapping work, and is searchable by zip code, so higher elevation areas in East Portland and in the West Hills map out with different zones than, say, inner Southeast Portland, where I live – which now maps out at Zone 9A (with average winter lows of 20-25F).
The interactive map is fun: from here, enter your zip code, then click on the map and find the hardiness zone throughout your neighborhood by clicking on any point on the map.
Learn more about the differences between the new map and the old ones, as well as information about maps, climate, and plant hardiness here.
I like Plant Delights Nursery owner Tony Avent's suggestion that the new map is likely to be of use for prospective home buyers. What home-buying plant nerd wouldn't want to have the opportunity to live in a little banana belt where semi-hardy plants might better overwinter?
While the technology isn't sophisticated enough yet to account for micro-level differences due to, say, the tall building behind your house that blocks light in your garden all winter or the reflected heat from your neighbor's RV pad, it does factor in larger geographical features such as the river and significant elevation changes.
So visit the site and see how your zone has changed. Is the map easy to use? Does it more accurately reflect the reality of your garden? Let us know!