edibles
Seedy Business
2012 seed catalogs are up and ready!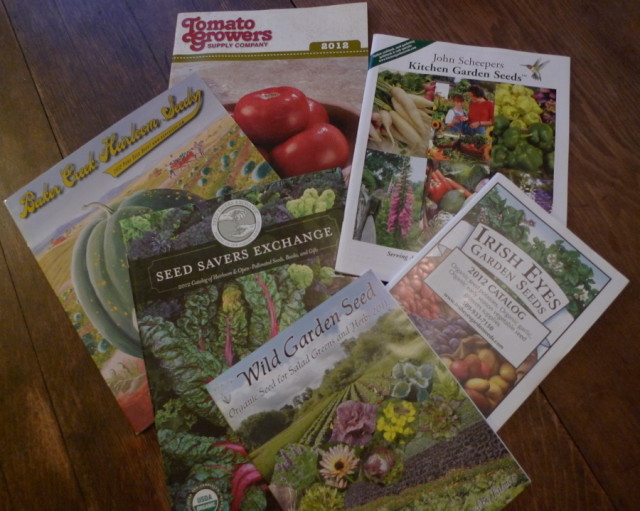 Seed catalogs are arriving in real and virtual mailboxes, which means it's time to start planning what to grow in the veggie garden this season. This rainy week ahead should afford some time to read through the luscious vegetable descriptions and make some decisions. Not starting your own seeds this year? It's still fun to read the catalogs, if only to whet your appetite and help you plan what you want to plant.
Of course there's nothing wrong with buying starts. It's not the most economical route but it can save time. I have a small garden so I sometimes buy starts of those vegetable I only need one or two of, like zucchini or tomatillo. For starts, I recommend seeking out locally- and organically grown seedlings – I'm particularly fond of searching the farmers markets and People's Food Co-Op (where Naomi's Organic sells on Wednesdays).
But the benefits to starting your own plants from seed are great:
Better selection. Instead of picking from five or ten eggplant varieties, you can pick from 25 or 30! And your tomato choices can expand into the hundreds, and include heirloom varieties that absolutely nobody you know has ever grown before. (Thus fulfilling the "cool factor"!)
More economical. It's usually more economical, especially if you save the seed for future years. Most seed packets cost about $3, which is the roughly what a tray pack of six plants costs!
You can share. You can start extra and give the plants away, which feels really nice.
You learn a lot. Starting seeds familiarizes you with a plant like nothing else can.
It's fun! Watching a seed sprout and grow is right up there in the top category of life's more gratifying horticultural experiences.
If you're wondering where to start, here are my favorite seed companies. Most are local, but those that aren't are exceptional and well worth ordering from:
Baker Creek Heirloom Seeds
Irish Eyes Garden Seeds
Johnny's Seeds
New Dimensions
Nichols Garden Nursery
Renee's Garden Seeds
Seed Savers Exchange
Seeds of Change
Territorial Seed Co.
Wild Garden Seed
Don't forget to include some flowers among the vegetables… not only are many flowers like sweet alyssum and calendula good pollinating insect-attractors, but they also look cheery and sweeten your mood when you're digging in the dirt.