plant this!
Six Fabulous Winter Flowering Plants
light up the dark days of winter with fragrant and sassy flowers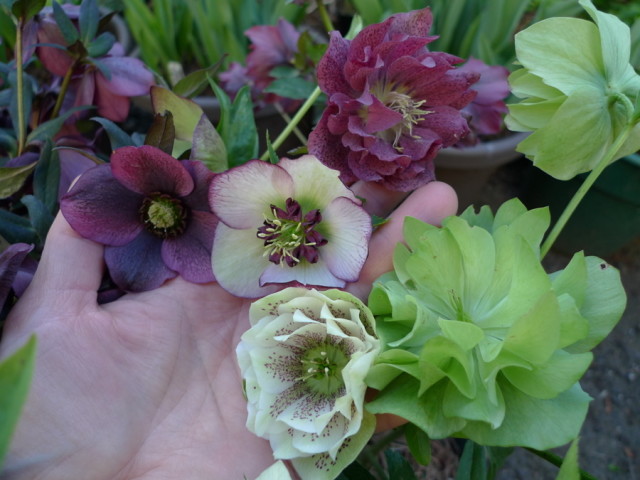 Whether you're a devotee of rainy PNW winters or you just endure the gray skies while waiting for our all-too-brief, annual glut of summer sunshine, your garden will be enhanced with the addition of cheerful winter-blooming plants.
Most people know about colorful pansies and violas, flowering kale and even some of the more common winter-flowering shrubs like daphne and witch hazel. But we're blessed in the PNW and can grow so much more.
Anyone who feels gloomy or sad in winter will immediately understand why plants that put on a show in winter are so endearing. Whether you consider yourself a devoted gardener or not, setting your winter-weary eyes on glimmering clouds of flowers or sniffing sweetly fragrant flowers in your garden during the dark months from November to March can elevate your mood in a hurry.
Here are a selection of six favorite, knock-your-socks-off winter blooming plants that will help cheer you on through winter's darkest days. Of course, winter is the best time to shop for these plants, as you can see the flowers – come spring and summer, all you'll see are the leaves! So hop over to your favorite nursery's winter flowering section and pick something out for your garden. Soon, you'll be wondering how you ever survived winter without these mood-elevating treasures!
For the earliness, and cuteness of the flowers, and 'cause they're deer-resistant:
- hellebores!
These low-growing, evergreen perennials include many diverse types of plants. There are petite, very early flowering Christmas rose (H. niger_) with pristine white flowers; bear's claw hellebores (H. foetidus_), with small, apple green blossoms; and the gorgeous hybrid Lenten roses (H. x hybridus), with single and double flowers ranging from speckled white, cream, yellow and apricot to purple, pink, red and slate black. There are even taller – 2-3' tall – green flowered types (H. argutifolius) and some hybrids that are smaller, with large, cupped green to purple flowers. My favorite way to grow hellebores is to plant at least three of them together so you get a real hit of color. Yum!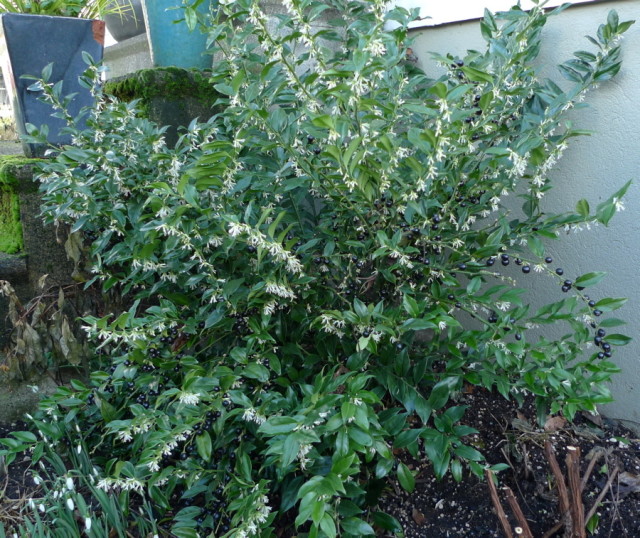 For knock-out fragrance and a generally elegant appearance:
- sarcococca!
There are many species of sweetly fragrant winter box and they range in height from eight inches to nearly six feet tall and wide. Generally, all Sarcococca are evergreen, with glossy, elegant foliage and small, threadlike white flowers with a sweet, penetrating fragrance. They do best in shade and rich soil but are surprisingly drought-tolerant if positioned in shade. Plant S. hookeriana v. humilis or didygna if you desire a 1-1.5' tall ground cover or mat. Try one of the taller types (S. orientalis, S. ruscifolia, S. confusa, S. saligna) if you'd like a 4-6 foot tall shrub. Just remember to place near a walkway you use in winter so you can relish the exquisite fragrance as often as possible during its winter flowering period!
Great selection at Garden Fever Nursery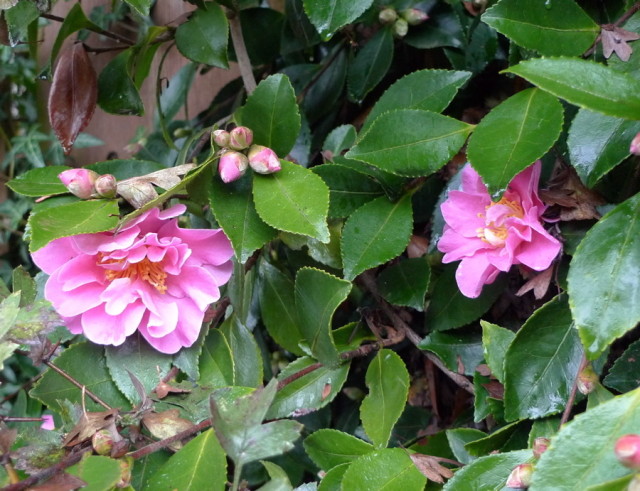 For the color and foofiness of the flowers and understated sophistication of the foliage:
Winter camellias (Camellia sp.)
These include the easy-to-find sasanqua camellias (C. sasanqua), which come in bright red with a yellow stamen (Yuletide), light pink (Showa-No-Sakae), dark pink (Shishigashira), white (White Doves/Mina-No-Yuki) and the cold-hardy Ackerman hybrids (many with names with the word "snow" in them), as well as more unusual species like C. transnokoensis and C. tsaii, which offer small, sweetly-scented white flowers. Winter-flowering camellias range from 4 to 12 feet tall. Some have a willowy, upright habit, others narrow and erect, and still others wide-spreading. Most have smaller, pointed leaves and some – like C. transnokoensis and C. tsaii – have burgundy new growth.
Great selection of unusual species at Cistus Design Nursery and hybrids at Portland Nursery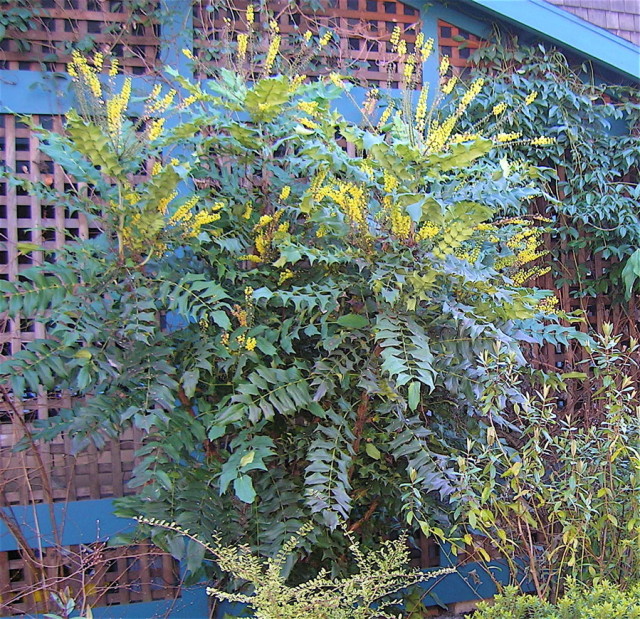 For the hummingbirds, mostly, but also for the architectural foliage:
Mahonia (Mahonia x media) are statuesque, striking shrubs reaching 8-15' tall that produce sprays of bright, sunshine yellow flowers from December or January to February and March, depending on the plant and the weather. Look for the cultivars Charity, Winter Sun, Arthur Menzies, and Lionel Fortescue for maximum color punch, flower size and optimal nectar for those hungry hummingbirds.
Most nurseries just carry one or two cultivars at the most. But I recently noticed some gorgeous and well-priced specimens at Cornell Farm Nursery and Gossler Farms Nursery in Springfield, OR offers several varieties by mailorder.
For bird habitat (it's a Pacific Northwest native that produces fruit) and for it's pretty late winter flowers!:
Oso berry, Indian plum (Oemleria cerasiformis) isn't exactly the showiest of plants in spring, summer and fall. But its super-early, white clusters of flowers burst forth in late winter to early spring and one of the most subtly beautiful sights in the PNW forest. The shrubs – which reach about 12-18 feet tall – are perfect for a summer-drought climate, requiring no supplemental watering once established, and the foliage makes a pretty filigree of light springy green in very early spring. If you can, buy male and female plants (it's a pot shot, so plant a few!) so the plants are more likely to produce the small blue fruit that are beloved to wildlife.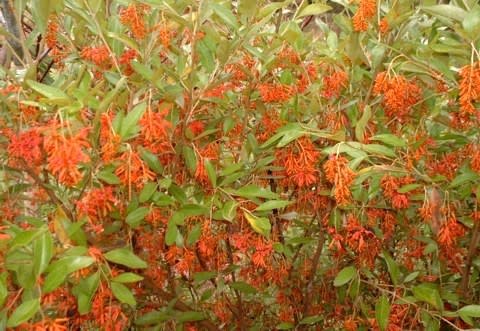 For the kinky unusualness of the flowers, and the exotic -looking foliage:
Grevillea victoriae
Like weird flowers? Well, you'll find an array of odd and spaceship-weird flowers in the genera Grevillea! The colors are like candy – apricot orange, dark orange, rosy red, pink, and citron yellow. And the flowers are super-cool, with fascinating buds opening to spidery, exploding starburst shaped blooms. While there are plenty of Grevillea that are not hardy for us, we are blessed to be able to grow several top-notch grevillea including the winter-blooming G. victoriae , which has warm orange flowers and handsome, silvery, ovate leaves on a 6-8' round evergreen shrub. Read about more hardy grevilleas at The Desert Northwest site, here.
Grevillea victoriae can be found at some local retail nurseries, as well as many specialty nurseries like The Desert Northwest (mail-order), Cistus Design Nursery, and Dancing Oaks Nursery.
In a future post, I'll pick out some more favorite winter-interest plants including those with ornamental berries, stems, bark, and winter color.