Desirables
A Colorful Carpet Language
Company C makes soft and cushy rugs filled with color and character.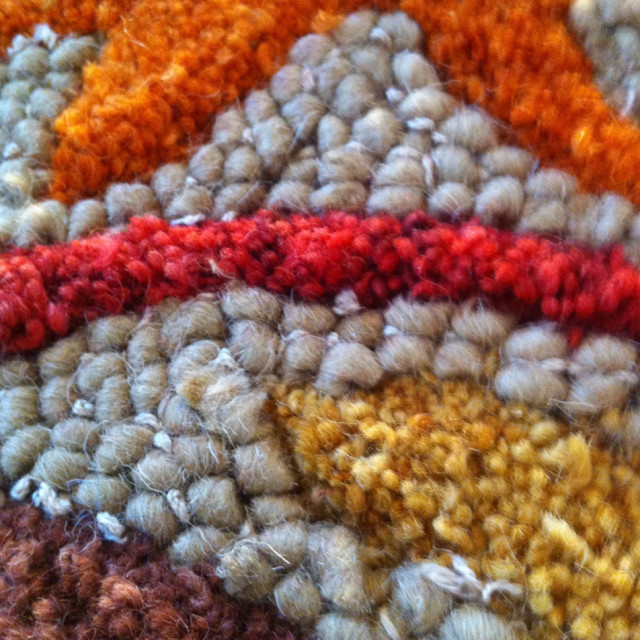 The carpets created by the New Hampshire company with the plain Jane name, Company C, are anything but plain. Nearly every one of the hooked or tufted wool carpets in the extensive line packs a punch of knock-out color, texture, and flair. Whether they're florals, geometrics, stripes or border patterns, these rugs don't hold back.
Nor should they. The flowers in the floral designs (like the Giverny) are bold and big, never delicate or droopy – they're happy flowers, even in dark or muted colors. The stripes of the Jubilee Periwinkle rug are bright, wobbly and loose, with different knots creating contrasting textures. Other patterns are quiltlike patches of contrasting prints, chock-a-blocked together.
Many of the patterns are inspired by popular 20th century artistic styles like the Art Nouveau or Art Deco. And yet they're amped up, exaggerated just a bit in scale or color palette. The effect is powerful, but not chaotic or overwhelming, and complements many different design sensibilities.
The Company C line of rugs has a pattern-centric fabric like quality in general, so it makes sense that we find a good selection of its rugs at the eastside fabric store The Whole 9 Yards. While that store is well-known for covering all the beautiful fabrics you might need for upholstery and drapery, the rugs provide appropriate accompaniment for your floors.
You're probably not about to make your own carpet, but since the prices are not prohibitive, you don't need to. Hooked rugs start at about $90 for a 3' x 5' (6' x 9' about $900), tufted usually about three times that (and up). They are handmade, durable wool, most made in China, and many Goodweave-certified. You may never want to wear socks again.
The Whole 9 Yards
1820 E. Burnside St.
Portland OR 97214
503.223.288
M-F 10am-6pm
Sat. 10-5