Desirables
Elegant Spheres of Light
David Trubridge's nature-inspired pendant lamps hang brightly – especially for 10% off at Vanillawood.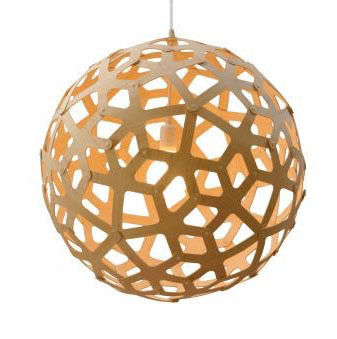 "Assembly required" is the fine print most of us do not want to read when it comes to something we're thinking of buying to furnish our happy home. Too often, assembly required means "puzzle over unclear directions, get annoyed, pull out your hair." But in the case of David Trubridge's bamboo pendant lamps, the words are welcome, not dreaded.
The beauty of the design and the ease of construction are remarkable – or at least appears to be in his how-to-assemble video. It's pleasing just to see the logical, elegant construction. Training in naval architecture and a lifetime of exploring marine and even Antarctic regions of the earth have probably helped Trubridge develop such graceful, efficient design solutions.
The material for these usually spherical lamps is bamboo (though they also are available in aluminum, which is rigid and comes already assembled). Nylon snaps clip the many identical pieces together.
His designs are inspired by natural forms he's observed up close on his extensive excursions to faraway places most of us never get to, like a sojourn in Antarctica, living on a sailboat for four years, and sailing from England to New Zealand. Coral reefs and the geometric polyhedron are the source for the Coral Pendant, which comes in a light bamboo color, stained black, or with natural exterior and painted interior. The interlocking bamboo pieces have a lacy look, letting light cast lovely shadows.
The assemble-at-home design makes shipping more efficient and eco-friendly as well, since the lamps come shipped flat in a box. Vanillawood , the local interior design/build firm with a Pearl District retail shop, are an official dealer of Trubridge's lighting, and they've got all his pendant lights on sale for 10% off through March 13.
Vanillawood
1238 NW Glisan
Portland, OR 97209
Phone: 503-327-8065
Fax: 503-327-8785