Desirables
Text and the Art of Decorating
Keeping Calm and Carrying On – and other written messages.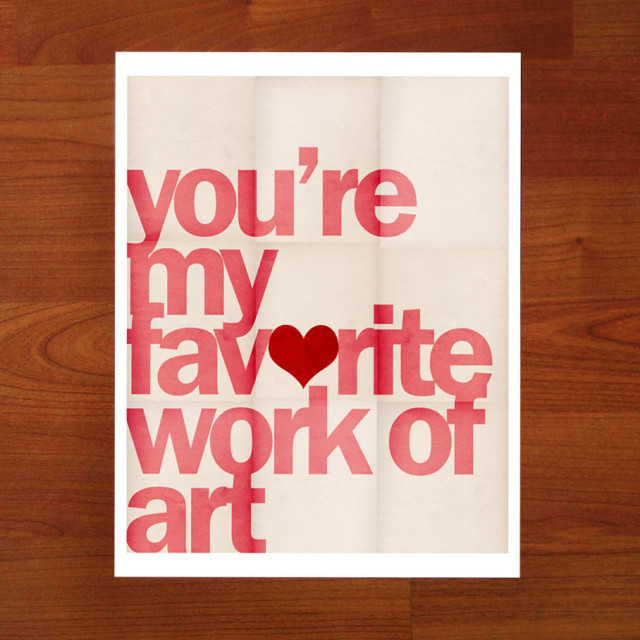 Time was when words were spoken aloud or written in letters or books; they weren't art on a wall. When did text become visual art? I'll save my theories for another day (are Egyptian hieroglyphs "art"?). But I will suggest that a graphic art poster would be a timely, non-chocolate gift to anyone you truly love on February 14.
Love Sugar Design, a husband and wife graphics team from Miami, make a simple and sweet text poster proclaiming "you're my favorite work of art." It's a giclee print, pink and red text on white archival 100% cotton heavyweight paper. But of course, you really have to see it to love it: the "O" in "favorite" is replaced by a red heart; it just works, visually and sentimentally.
Good text-based posters work as meaningful visual accents to a home or office as both graphic art and a subtle (or not so) message to the viewer. Think of them as large, attractive Post-It notes reminding you of something important. The popular Keep Calm and Carry On poster is a now classic example.
That poster was a 1939 creation of bureaucrats at the Ministry of Information in wartime Britain. Despite its popularity now, the "Keep Calm" poster never got publicly released; it was the third of a series of three propaganda posters produced to bolster the morale of Brits. The first two were ubiquitous in public places all over Britain in 1939, reading "Your Courage, Your Cheerfulness, Your Resolution Will Bring Us Victory" and "Freedom Is In Peril." But the Keep Calm message was held in storage in the event of a German invasion of Britain, which, thankfully, never came.
A used book selling couple in North England discovered an original of one of the Keep Calm posters in a box of books they'd bought at auction in 2000. The Barter Books folks liked it – proprietor Stuart Manley thought "It had a really nice feeling about it." He and Mary displayed it in their shop and immediately started getting inquiries from shoppers about where to buy it. Thus began, quite by accident, their launch of the image into the public consciousness. The Keep Calm phrase and image, sometimes known as KCACO, is also in the public domain, though that is being disputed by an entrepreneur trying to trademark its use on certain products.
In 21st century western cultures, the message resonates on many levels. Not quite as sweet as "You're my favorite work of art," but a timeless sentiment nonetheless, for Valentine's and all days.
Appropriately, the giclee printing method of Love Sugar's "You're my favorite" poster (YMFWOA?) should stand the test of time as well. Giclee printing is archival, museum quality ink-jet digital printing begun in the early 1990s. A single print can economically be made on demand, unlike the old-fashioned four color offset lithography method. Printer Jack Duganne at Nash Editions pioneered the process. He also coined the name giclee (from the French word "gicler" meaning to spurt, squirt or spray) as a nicer-sounding way to convey what the ink-jet computer printer was doing. Perhaps Love Sugar Design will make a version of its YMFWOA poster en Francais…