Out and About
A Tree Story
Portland's many "Friends of Trees" have planted 430,000 trees and native plants since 1989.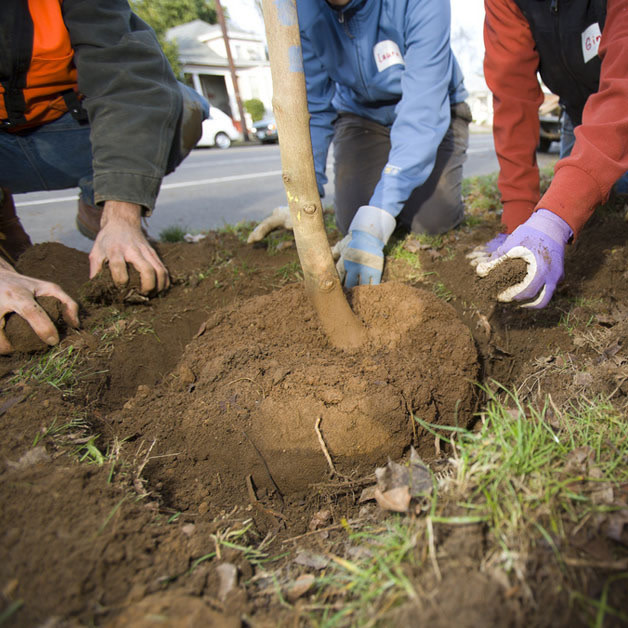 The story of trees in Portland has certainly improved since the town was nicknamed "Stumptown" in the 19th century. Now, Portlanders plant trees more often than cut them down. (In fact, if you want to remove a tree from public-regulated property such as the grass strip between your sidewalk and curb, you have to get an inspection and pay for a permit from the city.)
But the trend these days is planting, not chopping down, trees in Portland. The numbers from this past weekend alone are impressive: 170 people got together in the Piedmont and Woodlawn neighborhoods of North Portland and planted 240 young trees. It was an uncharacteristically sunny February day, but that wasn't all that made the Saturday fun.
Friends of Trees' planting events are organized by micro-neighborhoods, so that teams of five or so people plant their own and their neighbors trees. It's a great chance to meet people who live down the block or around the corner – nearby, but too far away to get to know in the typical comings and goings of city life.
The work these Portlanders did the other morning was just the latest chapter of a tree story started by Richard Seidman in 1989, when he decided to begin a community-based tree-planting non-profit. He wanted to bring neighbors together in a productive, fun way that had long-lasting, meaningful effects both quantifiable (trees planted, environmental benefits) and not (beauty, friendships, awareness and appreciation of nature).
It's been 23 years since he got the idea for Friends of Trees (inspired by a similar program in Los Angeles), and Seidman has long since moved on to other projects and activities. But, as he hoped it would, the organization and its trees live on. Friends of Trees has planted some 430,000 trees and native plants in the Portland metro area since it started.
In fact, they boast a 97% success rate of trees planted, though in full disclosure I'll admit that my own personal success rate with trees planted through Friends of Trees is an embarrassing 50%, if that. I signed up about ten years ago and planted two Japanese Snowbells in the sliver of a grass strip in front of my house. One tree died within a year or so. Perhaps "user error" had something to do with its demise; the short-lived tree was just a bit too far for my watering hose to easily reach.
This past weekend I tried again with the help of Friends of Trees. I am hoping the Prairiefire Crabapple of 2012 will get more love and water than the Snowbell ever did, now that I am older and wiser. Plus, the Prairiefire is said to be less water-needy than the thirsty Snowbell.
Looking at my surviving Snowbell, though, Friends of Trees team leader Susie Peterson sadly informed me that actually even it should be put out of its misery. She diplomatically mentioned that the quality of the trees FOT plants these days is better than it was in past years, implying that it wasn't all my fault. And of course, street trees do get a lot of wear and tear, especially in some neighborhoods. On a narrow grass strip like mine – 2 ½ feet wide – a tree gets battered daily by car doors and more. But water goes a long way.
I felt a bit sad hearing that even the one tree I thought I'd "successfully" planted ten years ago was actually a failure, but then I realized that's not really the full story. For ten years, that tree filtered the rain water and reduced stormwater runoff, even if it wasn't growing as quickly as it should have had I been a better caretaker. And I enjoyed watching it blossom and grow, even if I was a bit underwhelmed by its progress and production.
I've learned some things in the past ten years, and the City has as well. The City's Bureau of Environmental Services is in the midst of a three year "Plant it Portland!" campaign with Friends of Trees to plant some 16,000 trees in residential neighborhoods. They got about 3,700 in the ground last year, and will have planted another approximately 4,500 by the end of this year's planting season.
And yet, those impressive numbers are just a part of what Friends of Trees achieves on its own, with the help of so many volunteers. During the 2010-11 planting season, they planted more than 24,000 trees and native plants, a 71 percent increase over the number planted during the previous season.
There are 11 more Plant It Portland! Saturday plantings this "spring" season, and possibly another will be added in March. Even if you can't plant a tree in your own grass strip or yard, you can send someone else a "gift tree." A special card goes out to the "recipient," and for the month of February – in honor of Valentine's Day – the usual $35 is discounted 25%.
It's a great deal for all lovers and Friends of Trees. And a side benefit is that tree planting reminds us that spring is indeed coming soon.