Article
Great Gardening Advice at the YGP Show
Oh, and the seminars are free this year!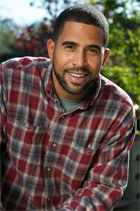 What's different about this year's Yard, Garden & Patio Show? For one, the seminars are all free – you only pay admission if you enter the Show floor to wander through the displays, shop the nurseries and stores, and visit the display gardens.
CORRECTION: as about a zillion people have rightly noted, the seminars have always been free at the YGP. Dunno where I got that idea that attendees had to pay admission in previous years!
Another (possible) difference: if we're lucky, there may be less bark dust visible, and more plants. For the past few years, I've been complaining about previous years' sad plantings of multi-colored primroses that seemed to swim amidst an ocean of red bark dust… I just think that with all the amazing plant nurseries we have, and all the incredible design talent – not to mention the discriminating tastes of local gardeners – that we can do better than that! And it has been improving, year by year.
The free, educational seminars run Friday and Saturday from 11 am to the last talks of the day, from 4 to 5 pm. And on Sunday, you can catch seminars from 11 am to 3:30 (the last talks end at 4:30 pm).
It's downright silly for me to pick out any seminars as highlights when the choices are so good this year. But I can't help myself: personal highlights for me include blogger and Seattle garden writer Val Easton speaking on her new book on creating creative bouquets from your own garden (Fri 11-12 am); Nurseryman and plant collector Sean Hogan speaking on what plants want (Fri 2-3 pm); Sadafumi Uchiyama of Portland's Japanese Garden speaking on bringing Japanese design themes into your garden (Sat 11:30-12:30); local designer Vanessa Nagel's talk on alternatives to turf lawns (Sat 2-3 pm); designer Lucy Hardiman speaking on creating stunning sidewalk and curbside gardens (Sun 11-12) and a second talk by Sean Hogan on the best and new native plants for good garden design (Sun 12:30-1:30 pm).
And even though I don't have a TV and have never seen the program (what a typically Portland "confession" to make), I am eager to see the "celebrity landscaper" Ahmed Hassan, host of the DIY Network "Yard Crashers". See him Friday and Saturday, February 12 noon and 4 pm and again, Sunday, at 12 noon and 3 pm.
From the press materials…
"Ahmed Hassan and his team are known for surprising families with customized residential landscapes and upgraded homes on DIY Network's "Yard Crashers." Come see Hassan's high energy, spontaneous, comedic, and often interactive show! Watch how he is able to maintain existing landscape by trimming, pruning and hedging yards into one of his amazing works of art. Hassan is also skilled at planting beautiful containers. He will educate us on selecting the right soil, watering techniques, as well as dispelling all kinds of myths and urban legends."
That sounds fun! And sometimes, we just need to get out of our little Pacific Northwest view of the world and see how they do it in Hollywood!