plant of the week
The Joys of Flowering Quince
tough, charming and early to flower!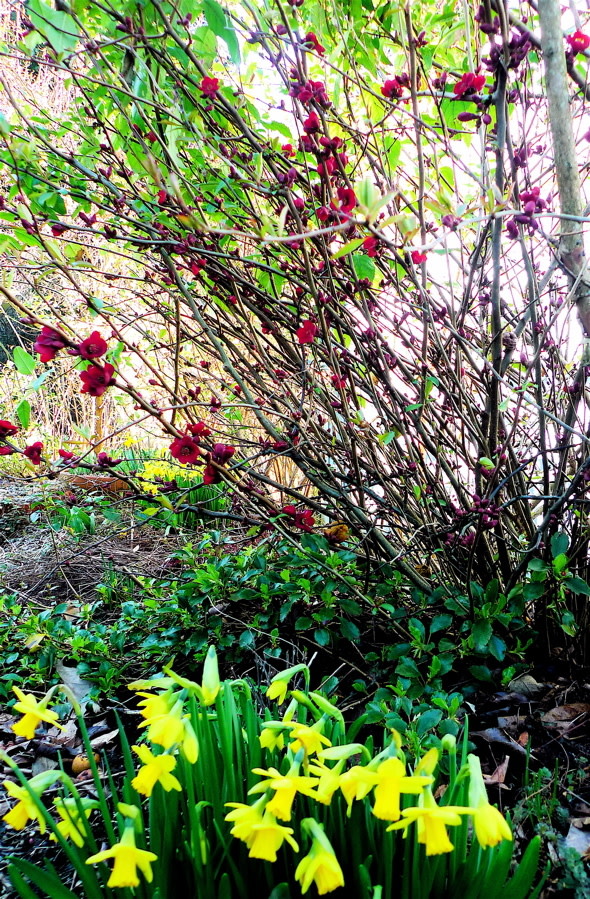 Flowering quince (Chaenomeles speciosa) is an old-fashioned shrub in the rose family that is sometimes found around older homes in the Pacific Northwest. Sadly, it is sometimes seen hacked into odd shapes (cubes, balls, mushrooms, etc) by frustrated homeowners and clueless landscapers, as it can reach some 20' tall and wide, if untouched. Admittedly, left to its own devices, flowering quince can become unmanageable. But it is exquisite, and so easy-care and charming when it's spread is gently controlled but it is not overly pruned.
The three main types of flowering quince are Chaenomeles speciosa (the most common flowering quince, which can reach nearly 20' tall and wide if unpruned); C. japonica (Japanese flowering quince, usually about 2-4' tall and wide); and Chaenomeles x superba (a hybrid between the two, intermediate in size).
All are tough, suckering shrubs, sometimes a bit spiny, that colonize slowly, creating a thicket of stems that are studded with glowing blossoms in late winter (usually starting in early March in the PNW). Plants are drought-tolerant when established, although they produce more flowers when they receive some supplemental water in mid-summer, when setting buds for the following season. Flowers last for at least a month (usually all of March) on a large, established plant. Colors include white, pale to deep pink, red, scarlet and — most typically — an incandescent shade of coral.
The leaves are pretty enough – nothing special – but dark red or orange forms can have lovely reddish new growth in spring. Fall color is almost non-existent, but the handsome, buttery yellow fruit (looking like little yellow apples) hang on the stems all winter. I think they're pretty, although they are poo-poo'd by some as an ornamental feature. A tasty jam can be made with the small fruit, although it should be noted that the fruit is not the same as the luscious true quince (Cydonia oblonga), which is a tree. True quince produces those large, fragrant yellow fruit found at the farmers markets in fall. Quince paste (mebrillo), quince candy and all variety of delicious sweet and savory Iranian dishes are made with true quince, while flowering quince fruit is typically relegated to jelly.
?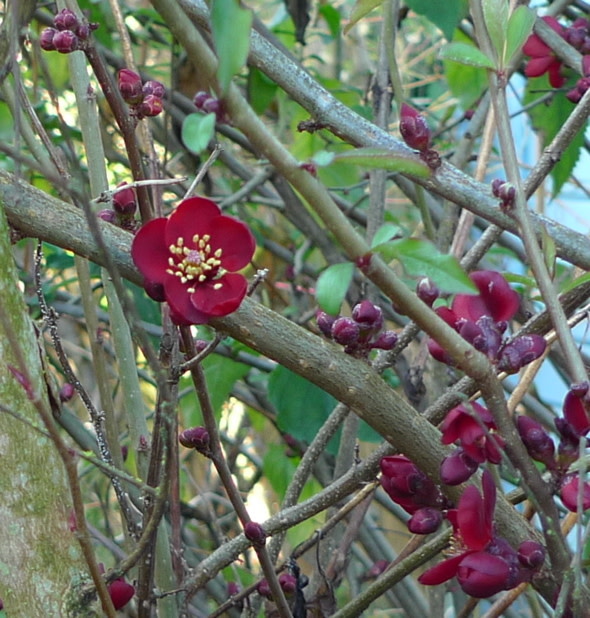 My favorite flowering quince this week is a variety with dark, blood-red blossoms called Atsuya Hamada. It is just coming into flower this week in my garden and the sunshine we're having at the moment is showing it to peak effect: backlit by the sun, and absolutely glowing in the late winter rays of sun.
Atsuya Hamada is probably an intermediate between the two species and reaches about 10' tall over the course of 5-10 years.
Plant flowering quince for its colorful late winter blossoms, for the abundance of fantastic winter bouquets (bring budded stems inside in February) and for the easy care of the plants.
See some examples of a range of cultivars growing at Swarthmore College's Scott Arboretum here (keep in mind, the dates they list for flowering are much later than ours)
Sources:
See Plant Lust